THIS POST MAY CONTAIN AFFILIATE LINKS FOR PRODUCTS THAT I PERSONALLY USE AND RECOMMEND. IF YOU MAKE A PURCHASE THROUGH ONE OF THESE LINKS, I WILL EARN A COMMISSION AT NO EXTRA COST TO YOU.
If you've attempted an almond flour or coconut flour low Carb Pie Crust dough before, then you already know all about the challenges you're presented with – pie crust dough that's nearly impossible to roll out and even harder to transfer to a pie pan, a crust that turns dark brown after only 20 minutes in the oven, and a very crumbly vessel for your delicious pie filling! If you can relate, then get READY, because THIS low carb pie crust solves ALL of those problems! This pie crust rolls, feels and bakes very similar to a real flour one! It does require the use some specialty ingredients; but, when the holidays roll around (and that PECAN PIE IS CALLING YOUR NAME) you won't regret making this crust! ESPECIALLY when you realize, the ENTIRE PIE CRUST IS ONLY 3 G Net Carbs ????!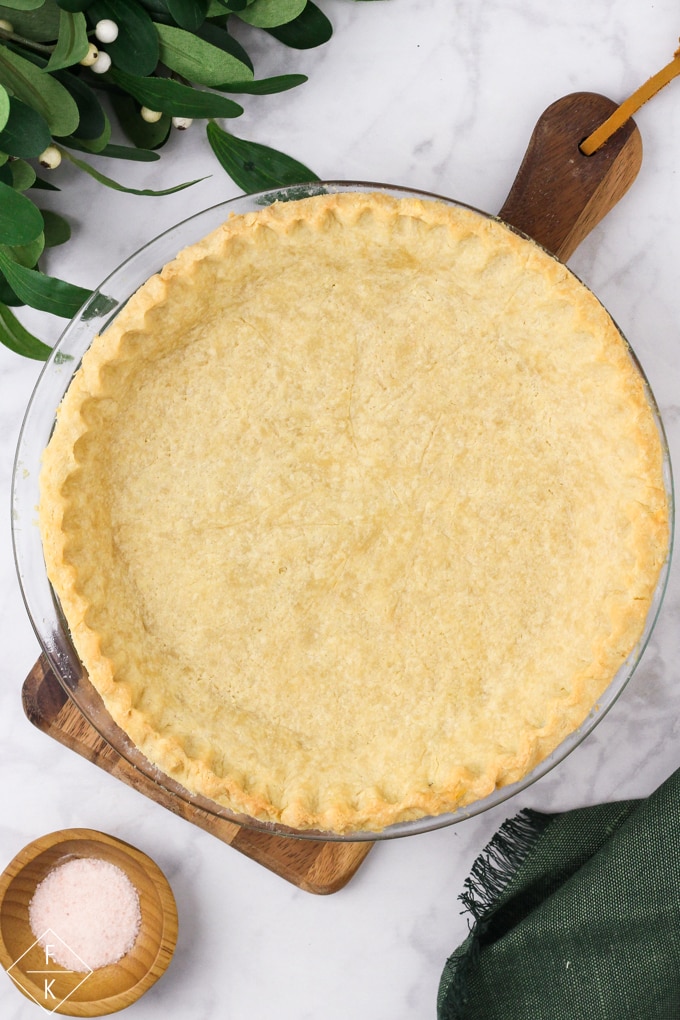 I have been working on creating a low carb pie crust since I STARTED KETO well over a year and a half ago. I have tried EVERY kind of low carb pie crust out there- almond flour, coconut flour, fathead dough, adding cream cheese, adding vinegar for flakiness, adding psyllium husk or flax to help roll it out, use protein powder for a finer 'flour' powder, etc. No matter what I did (or what recipe I tried), I could NOT find a solution that meant I could ACTUALLY Roll out a pie crust dough and shape it into a pie crust pan without it falling apart in the first 30 seconds of being out of the fridge!
Sure, there's some pretty fabulous and easy 'press-in' pie crusts out there. You can still shape them to look like a faux 'rolled out' pie crust, and they work great in some recipes like a cheesecake (where crumbly crusts are pretty normal) or in a tart that only gets baked for a short period of time (or not baked at all). When it comes to a heartier pie though, like a pecan, pumpkin pie, or chicken pot pie they just don't work as well. They fall apart, crumble, or burn into a nasty blackened color when they have a bake time exceeding 30 minutes (almond flour JUST burns easier).
There different variations of pie crusts as you can see, that are out there in the the world of low carb …. There's shortbread style pie crusts (that use butter and no egg, usually sweetened, sometimes not), and then there's psuedo pie crust 'dough' (that uses an egg to bind it together better, or binding ingredient like flax). Then there's actual ROLLABLE pie crust DOUGH. Okay, so there wasn't really a rollable dough out there, BEFORE the creation of THIS LOW CARB PIE CRUST DOUGH RECIPE!). WHOOHOOOO!!!
So, how did I get mysterious low carb pie crust to stick together without crumbling WITHOUT the use of eggs, almond flour, coconut flour, or flax?!?! WELL, my friends, I used a litttle bit of magic, also known as …… some SPECIALTY INGREDIENTS ????! These specialty ingredients are derived from wheat flour and oats, just with the carbs REMOVED!
WHERE can I find the magical ingredients for this pie crust dough?
So far, I have found three main places where you can locate the ingredients needed for this pie crust dough. I will link the places you can buy them in the recipe as well, but let me just explain since they can be sourced from various places. Different BRANDS DO WORK Differently (ESPECIALLY WITH THE OAT FIBER).
1.) Amazon
On Amazon, you can find my one of my two favorite brands of Oat Fiber (THIS Lifesource is the ONLY one I recommend off amazon ) , Vital Wheat Gluten (THIS Hoosier Hill Farm Brand), Inulin/chicory root fiber (This brand is what I use), and Erythritol (granular), Whey Protein Isolate (This ISOPURE, Unflavored Brand is my FAVORITE)
2.) Netrition–
Netrition.com is pretty much the only place you'll find the really specialty low carb wheat products used here. Here's what you need to order from netirtion (each on is a link): resistant wheat starch, wheat protein isolate 5000 (this CAN be subbed with Wheat Protein Isolate 5500- they function almost exactly the same!), and Wheat Protein Isolate 8000. They're super affordable in cost (about 5.99 a bag) and there's TONS of other AWESOME low carb products you can buy when you're shopping there online anyways
If you don't want to use AMAZON for the ingredients they do have (inulin, erythritol, whey protein isolate, Oat Fiber, Vital Wheat Gluten etc. ), then you can also find most of these on netrition and just add to your order there to make it easier!
3.) Honeyville–
The Honeyville Brand of Oat Fiber is my ABSOLUTE favorite oat fiber to use here (My second favorite is the one listed in the amazon section- "lifesource brand" that can also be found on netrition as well). They used to sell the honeyville Oat Fiber on Amazon, but it mysteriously disappeared recently! I am sure it will be back, and when that happens I will relink it then. For NOW though, you'll have to order it DIRECT from the Honeyville website if this is the brand you want. In my opinion, it's TOTALLY worth it to go for this oat fiber over the lifesource brand, but, then again, I bought mine when it was on amazon (I got the 4 lb bag so it's lasted me quite some time!). 🙂 The next time I order though, I will be ordering direct from Honeyville!
*********NOTE ABOUT OTHER BRANDS OF OAT FIBER*********
DO NOT BUY THE ANTHONY'S OR NUNATURALS BRANDS OF OAT FIBER!!!!!!!!!!!!! Trust me, I have used both of the brands. Not only do they look different (brown instead of white), but they taste completely different!!! I have baked with ALL of these brands, and I STRONGLY suggest going with either the Lifesource Brand OR the Honeyville Brand of Oat Fiber!
Can I use these specialty ingredients in other recipes in the future?
ABSOLUTELY!
The Oat Fiber (NOT Oat FLOUR) is the ingredient that I use MOST often in recipes. In my opinion it is the BEST substitute for coconut flour and it's so much lower in carbs! It doesn't have the gritty texture or distinct flavor that coconut flour has. I found that you can use 4 Tablespoons of Oat Fiber to replace about 2.25-2.5 Tablespoons of coconut flour in most recipes! Oat Fiber is thirsty, like coconut flour, and absorbs quite a bit of liquid, but isn't quite AS absorbent as coconut flour is so you do need a bit more when substituting.
I have many, many recipes in the pipeline that utilize Oat Fiber (clearly, I'm SUPER excited about!!). In the next two -3 weeks I will be releasing my protein pancake recipe and my super soft and buttery drop biscuit recipes that all utilize oat fiber????! You will NOT regret buying it.
Now for the rest of the ingredients, if you've been missing bread that TASTES, TOASTS, AND BAKES like real white bread, then you will ABSOLUTELY want to use most all of these ingredients again! I have a fantastic recipe for a low carb 'white bread' and a low carb cinnamon raisin bread (IT'S SOOO GOOD!) that I will be sharing very soon as well! I've been experimenting with combining the flour mix in this recipe (with additions and adjustments) to create low carb pizza dough, buttery dinner rolls and fluffy, gooey cinnamon rolls that are close to being perfected and ready to share with you all too! 🙂
If you're on Instagram and follow @angel619sd, you may have seen some of her creations that use some of these same ingredients! She has recipes for bread, english muffins, new england hot dog buns, and dinner rolls you can access via her Patreon page, which I highly recommend checking out! You will already have most of the ingredients needed for her recipes, just from making this low carb pie crust!
How Do You Make the Best Low Carb Pie Crust Dough?
Although there's a few ways to go about mixing up pie crust dough (whether it's low carb or not), and the entire process is actually quite easy, there are still some really tiny variables that can change the texture of your final crust AND the ease at which you can roll the dough out! The two biggest factors here are the amount of water you need to use and the TEMPERATURE of your ingredients . Let me explain….
THE AMOUNT OF ICE WATER:
A traditional (carby!) Pie Crust Dough is a basic mix of Flour, Water, Fat (butter, lard, or shortening), and salt [often with a hint of sugar added]. Usually the ratios of all these ingredients remain pretty unchanged across all pie crust recipes, with the exception of the amount of water. You're often given a range (for example, 4-8 Tbsps of iced water). WHY? Because the amount of liquid needed to get your dough to come together can vary completely from day to day, bag of flour to bag of flour, measuring technique of each baker, and the weather! Seriously, THE WEATHER will totally change the amount of moisture you need to make a cohesive dough – the humidity levels in the air will mean more or less absorption of water in your flours.
In our low carb pie crust dough, the SAME rules apply! That is why my recipe includes a range of ice water not a fixed amount. (don't worry there's picture below to help you become an expert here!) 🙂
THE TEMPERATURE OF YOUR INGREDIENTS:
You know those delightful flaky layers you get in traditional pie crusts? Those are created by the little chunks of butter of within the pie crust dough, that when they melt and liquify in the oven help seperate the water and flour into little puffed layers. This is what creates FLAKINESS and part of what makes pie crust so darn good! Ensuring that thewet ingredients (both butter and water) in pie crust dough are icy cold, will provide insurance that the butter will melt in the oven between the layers of 'flours; to make a flakier pie crust dough, instead of a tough dough.
The best way to do this is to cut/cube cold butter first, then pop it in the freezer for about 10 minutes to get it nice and cold (but NOT frozen) just before adding the dough, and THEN to use ICED water. Just plain old cold water can work, but using water measured out of cup of ice + water will help guarantee those flakey bits in your crust.
THE MIXING METHOD:
Since we dont' want to have too warm of butter or too warm of water, I find that using a 'tool' to mix can help with both of these. Warm hands can melt fats and warm water too quickly, so I avoid that! Leaving the work to a food processor or a stand mixer is definitely the way to go. A pastry cutter can work too, but I would only recommend that as a last resort. The food processor is my personal first choice because it's just what I've always used, it's super quick, it cuts the butter perfectly, and is super easy to clean up. I have included instructions for all three variations in the recipe though, so it can work with whichever you have at home.
THE PROCESS:
The overall process is quite simple and quick actually!!! Mix the dry ingredients (the low carb "flours" plus salt) together first, cut in your cold butter second, add iced water last, then mold into a disc, refridgerate for a short time, roll, shape, bake- BING, BANG, BOOM. You've got yourself a pretty little low carb pie crust.
There's still a little bit of a challenge here though in making this. I didn't give you a fixed amount of ice water (REMEMBER why- from above?). Since the amount of ice water needed varies on so many factors, you're going to have keep checking your dough as you mix, just adding more ice water if needed. Pie Crust dough can certainly take practice and sometimes a trained eye just for this reason.
LUCKILY, you do NOT have to be a pie dough expert for this one, because I have created this detailed picture guide (below) so you know EXACTLY what your low carb pie crust dough should look like when it's PERFECTLY hydrated. 🙂 In these pictures, I used my food processor, but the way it should visually look in each step will should be the same regardless of what mixing tool you're using.
*** Please pay close attention to photo square 4, 5, & 6 – with an explanation of each below these photos.
Look Closely again at photo Squares 4, 5, & 6 in the above process pictures.
Image/Step #4 is after you've added the cold cubed butter to the 'flour' mix + pulsed in the food processor for a short time. See here that the butter has been 'cut' up by the food processor JUST enough for each piece to be a bit smaller than the size of a pea, and each peice of butter is 'coated' in flour. That's exactly what it should look like. The butter is not emulified (blended) so much that the 'flours' are sticky yet. For example, when you make cookies, you usually 'cream' softened butter when you're blending, until is smooth in your recipe. That is NOT what we want to do here. The cold butter bits are now much smaller than when we started, but are still chunky, Sort of resembling grated cheese.
Image/Step #5 & #6 are the trickiest part of this recipe, because this is where it's going to call for your JUDGEMENT (when we add the Iced Water)! Picture #5 is was taken RIGHT AFTER I ADDED ICED WATER and had pulsed for 10-15 seconds. So, IMAGE #5 is EXACTLY what your dough should look like when it's PERFECTLY hydrated. The dough at this point resembles course and wet chunky sand (with little tiny chunks of butter). There's an additional TEST, to see if your dough is 'hydrated enough' during this step (that you can't see in the photo), and its really what I use to make sure that the dough has just the right amount of ice water. If I stuck my fingers in and PINCHED the course dough together, then it would stick together well into a play-do consistency. THAT MEANS it's DONE – no more water needed!!!! If it doesn't stick together when pinched, then it needs a bit more ice water and another quick pulse. What you do NOT want in this stage, is so much water that your dough resembles one wet dough ball sitting in the bottom of your processor, because that means it's a little TOO wet. If it got mixed a little too much and is yielding more of a dough ball, then it's OKAY. You don't have to throw it out, it just won't be quite as flaky 🙂
Image #6, shows you how shaggy the dough looks from #5, and remains looking after I have dumped it out onto seran wrap, just before I wrap it up and mold it into a dough disc, all before refrigerating! 🙂
Here's what the pie crust dough looks like after being chilled, rolled, and shaped in the pie crust pan PRIOR to baking 🙂 Looks just like a real regular flour crust AM I RIGHT?!?
DOES THIS LOW CARB PIE CRUST REQUIRE BLIND BAKING OR PIE WEIGHTS?
Blind Baking:
To blind bake or not to blind bake a pie crust? If you don't know what blind baking is, it just means that you are PRE-BAKING your crust before putting any filling into it! More of a a…'Nakedly' baked pie crust perhaps we could say? Any form of 'pre-baking' your Pie Crust DOUGH = blind baking. Does that make sense???
Now, The answer HERE is …… YES ! YOU NEED TO EITHER FULLY BLIND BAKE [aka 'PRE-BAKE'] or AT LEAST PARTIALLY BLIND BAKE [aka 'partially bake'] THIS LOW CARB PIE CRUST DOUGH before you're going to fill it with whatever recipe you're using.….
Why do some pie recipes call for a paritally blind baked (remember, this just means it's pre baked) or full blind baked pie crust and others do not? In general, blind baking a pie crust, just lowers the risk of a 'soggy' or partially uncooked center of your pie dough. Usually recipes that bake for a very long period of time, don't require you to pre-bake your crust because it will bake on it's own, eventually.
Because this low carb pie crust dough does not contain the regular flour ingredients, I DO RECOMMEND you pre-bake it (blind bake it) either partially or fully before filling. It does get nice and crispy, but because I don't know how it will react with different ingredients inside it, pre-baking it before filling it is going to be a safer bet! 12 Minutes-15 minutes for a partially pre-baked pie crust, and 15-20 for a fully pre-baked pie crust. 🙂
Pie Weights: What are they and do you need them?
In general, you don't need pie weights to pre-bake (or 'blind bake') any pie crust before using it in your recipe. Does it help? Certainly – and that applies to ANY pie crust (not just low carb pie crusts). Pie weights help your pie crust keep their shape and reduce shrinkage (after puffing in the oven and then slightly deflating after baking). They do this by preventing the crust from puffing up in the middle from the steam (that comes from water and butter) as it bakes. Is it required? Nope! I'll be the first to admit my laziness means I've baked this crust many times with NO pie weights 😉 But I will say again, it CAN help, especially if you want a picture perfect pie.
If you don't have any pie weights, then you can always either prick a small hole in the bottom of your crust to prevent a steam bubble (if you don't mind a little hole in it). Alternatively, you can just gently press down the puffed center of your pie crust after take it out of the oven(before filling it) to help it take it's normal shape again. I made my pecan pie (picture below) this way, with no hole prick and no pie weights, and I had NO issues doing so. 🙂
If you do want pie weights, here's some super affordable pie weights that work great (and yes I own them myself too!), as well this article on 'how to blind bake' your pie crust with pie weights that will guide you right through what to do with parchment paper and your pie weights.
Have any leftover Pie Crust Dough After Making This Recipe?
If you have leftover Pie Crust Dough, keep it in the refridgerator and re-purpose it! There's actually a million things you can make with extra pie crust dough, and THIS pie crust dough holds up phenomenally well after chilling in the fridge (can store up to 3 days in the fridge).
To start, you can always make fancy little low carb pie crust dough decorations to go atop your pie (see photo below)! You can make keto pop tarts. You can make pinwheel cookies, cinnamon wheel cookies, mini hand pies, pastry cups…. oh my gosh, SO many things can be made with this awesome low carb pie dough. I have only JUST STARTED creating things with it, and will post more ideas as I create them!!!
If you want to make PIE CRUST cut outs, you DEFINITELY can with this dough! You will want to roll it thinner and refridgerate it in a flat rolled sheet, then punch the cut outs when it is cold to ensure they keep their shape! I used an egg wash on top (one whisked egg with a little splash of water) on top of to get the shiny exterior, then baked them on a greased baking sheet at 350F for 10-12 minutes and they were perfectly crisp! I have also used an egg wash, and then sprinkled with monkfruit sweetener just before baking, and they tasted sweeter that way. We ate them like cookies! Here are pie crust decoration/cookie cutters like I used that you can find on AMAZON!
I cannot wait to see what and how you all use this low carb pie crust dough!!! Personally, I've got heaps of recipes I want to try with it! First things first, a super comfy pair of EXTRA stretchy pants and a very FULL low carb thanksgiving DESSERT table, then will move on to a legit fully baked chicken pot pie, lemon meringue pie, chocolate s'mores pie, and oh my soooooo TOO MANY THINGS TO COUNT!!! Can you tell I am excited? 🙂
Print
Low Carb Pie Crust Dough
---
Author:

Total Time:

1 hour

Yield:

1

9-Inch Pie Crust

1

x
Description
A buttery and flakey low carb pie crust that you can actually roll out with a rolling pin.  This dough bakes just like a real pie crust dough, and the entire pie crust is only 3 G net Carbs!
---
---
Instructions
1.) Cut your Stick (1/2 Cup) of butter into  small cubes (aim for about 30-40 smaller cubes) and then quickly place cubed butter into the freezer (just while we work on the rest of the recipe – no more than 10 mins). NOTES: DON'T leave your butter on the counter while we mix up the flours, and don't leave it in the freezer for TOO long either ????!  See Post  for details as to WHY we want it cold, but not frozen 🙂
2.) Mix all dry ingredients together in a food Processor (PREFERRED), a stand mixer, or a Bowl (if using a pastry cutter!).  If  using a Food Processor, then pulse just to evenly to combine dry ingredients. IF using stand mixer, then mix on lowest speed for just a few seconds to mix.   Otherwise, just place in a bowl and use a whisk to combine.
3.) Drop your COLD cubed butter into the dry ingredients and pulse on and off for 10-15 seconds in your food processor until butter cubes are coated with flour and resembe the size of a pea down to half  the size of a PEA (this is important! Too big of chunks yields holes in your pie crust, but no butter chunks at all leave your pie crust 'tougher' rather than flakey).  
*If using a stand mixer, then mix with the paddle on lowest speed, in short bursts, just until butter cubes are coated with flour and just slightly bashed by the paddle (10-20 seconds total ish and butter chunks about pea sized).
*If using a pastry cutter, then cut/gently mash butter into flour until coated with flour (but still chunky, with all butter chunks being slightly smaller than pea sized!).     
4.)Working quickly, add 6 Tablespoons ICE water into food processor and pulse for a few seconds  to check the dough.   If needed add additional ice water (1/2 TBSP at a time) and continue to pulse until a very crumbly dough forms.    You will know it's ready and you've used just the right amount of water, when you can PINCH/gather the crumbly dough pieces together and  they stick together to form a dough during pinching (PLEASE SEE PHOTO GUIDE IN POST)! You want your pie crust dough to have pretty small  but visible (1/2 the size of a pea) butter chunks in it (not a smooth dough ball) too. Once your shaggy/crumbly dough has formed, gather up (touching as little as possible) and place onto seran wrap.   Wrap tightly and press the dough together through the seran wrap to form a dough disc. If your dough was as suggested above (forms together when pinched), then you should be able to mold a SMOOTH round disc while in the seran wrap by lightly pressing together and sort of kneading with your hands.  Refrigerate dough disc for at LEAST 30 minutes (up to 3 DAYS!) before moving on to rolling.
*If Using a Stand Mixer, then add the starting 6 Tablespoons of ice water, mix on lowest speed for 10-15 seconds, then check the dough to see if more ice water is needed, and follow instructions above.
*If using pastry cutter, then add 6 Tablespoons of Iced water and then cut/mash dough for 10-15  cuts, then check dough. Add more ice water if needed, following directions above.  You may need to keep cutting/mashing the dough further with this method, until your dough resembles a crumbly but sticky dough (see photos in post!). 
5.) Preheat oven to 350°F.  Grease your pie pan with a light spray of avacado oil or cooking spray. 
Note: you can place your greased pie pan in the fridge until you're done rolling your dough  ???? if you really want to overachieve, but it's not required. This just makes sure your butter chunks are cold up until the second your dough goes into the oven, which results in flakier dough layers!
6.) Layout Two Pieces of parchment paper and dust with Oat Fiber (this will PREVENT sticking). If you have a silicon baking mat, it helps to put it underneath the bottom piece of parchment paper  to keep it from slipping around when you roll (you can also use a lightly damp papertowel sheet under it instead!).    Working quickly, place your chilled dough between your floured parchment papers. Roll out your dough into a circular shape about ¼ -1/3 inch thick (I like to roll mine in a clockwise fashion to help keep it in a circular shape). Flip your underlying parchment paper upside down onto your pie pan and your pie dough should come right off!  Fold under the extra dough around the edges of your pie crust (it's actually  good when your pie crust edges are thicker than the rest of the crust!).  If you want a fancy crimped edge, then use  the thumb of one hand and your pointer and middle finger on other to pinch the dough as you travel around the edges , OR  just gently fold then press the edges flat onto the pie pan (feel free to cut off any excess) for a plain crust edge for a simpler method. (EXTRA TIP: IF you're making a GOOEY PIE and you want to minimize the risk of the center of the crust turning soggy, you can brush the crust with a little egg whites to crisp up the base more when pre-baking. I didn't feel this was needed even in a pecan pie, but I have done this for regular flour crusts before????‍♀️ ).
Optional : add Blind Baking Pie Weights to ensure this doesn't puff up in the middle on top of crumpled parchment (See post for a link with how to do this).
7.) Bake for 12-20 minutes (time depending on your final pie recipe but generally, 12 minutes for a partially baked crust, 20 minutes for a fully baked pie crust).    I recently pre-baked mine for 17 minutes before adding pumpkin pie filling and pecan pie filling).   Allow crust to cool for 5-10 minutes before filling if continuing to bake.  
8.) If you're going to use this pie crust in a recipe with a very long bake time (longer than 30-40 minutes, you will want to add a pie crust shield or cover the crust with foil to prevent overbrowning). If you're going to freeze this pie crust, you will want to do so BEFORE baking (see notes below).
Notes
*USING A PIE SHIELD:   IF your total pie bake time (after pre-baking this crust) is longer than 30-40 minutes OR higher than 350F, I DO recommend you use a pie crust shield OR make one with foil to cover the crust edges of this pie.  It started browning a little too much for me, right at the 40 minute mark @ 350F.   This may vary slightly based on your oven, so you will want to watch it carefully in ANY recipe, and cover as soon as too much browning occurs for best results! 
***If freezing pie crust to use later, then follow these instructions.   First,spray your freezer safe pie pan tin with avacado oil  (or grease it however you like)  before flipping the rolled out pie crust dough into it. Shape the pie crust as you would like for your future pie,  then put the whole uncooked pie crust into a freezer safe giant Ziploc bag.   Flavor may alter slightly after being frozen for longer than 2 weeks. To use a frozen pie crust,  just thaw pie crust IN THE REFRIGERATOR (NOT on the counter or it will melt the butter!), for 3-4 hours before pre-baking as in the above recipe, then filling the pie  and baking as your recipe states. ????
Prep Time:

40 minutes

Cook Time:

20
Nutrition
Serving Size:

1 Pie Crust

Carbohydrates:

3 g net