THIS POST MAY CONTAIN AFFILIATE LINKS FOR PRODUCTS THAT I PERSONALLY USE AND RECOMMEND. IF YOU MAKE A PURCHASE THROUGH ONE OF THESE LINKS, I WILL EARN A COMMISSION AT NO EXTRA COST TO YOU.
Why eat out when you can have a perfectly cooked keto steak with butter right at home that tastes just like it was made in a restuarant?? Following this method of cooking steak and my recipe, you can have dinner on the table in under 10 minutes, and you will be licking your chops for DAYS afterwards! It's astonishingly easy to cook a steak that is perfectly medium-rare, super juicy, seasoned to perfection, and well crusted at home in your kitchen (no grill!). Full tips, tricks, and instructions for my favorite method of cooking steaks are ALL Included. Don't miss anything below!
Even before I was on a ketogenic diet, I ate a lot steaks. Not EVERY steak that I made was perfectly cooked though. I tried tons of different methods- on the grill, In a Frying Pan, reverse seared, oven baked, you name it. Sometimes, these methods work fantastic. Sometimes, they were dry and overcooked, sometimes they were flavorless, and sometimes they were so rare they were practically still MOO-ING. For some reason I couldn't find a method that worked perfectly EVERY SINGLE TIME; they were always inconsistent.
Lamb cutlets on the otherhand, were (and still are!) MY JAM. I had a fool-proof method (don't worry I'll be sharing my PERFECT Lamb Cutlet recipe soon too) that I'd been using for years that made them turn out exactly as I wanted every time. I don't even know where the method originated…? Anywho, one day, it dawned on me… why wasn't I utilizing the SAME cooking method I use for the perfectly cooked lamb, for my steaks??????? UMMMM HELLLO????
This method of cooking my meat, involves first searing (and BROWNING) your meat in a frying pan, and then finishing it in the oven at a high temp for a very short period of time. Utilizing this method, means that you get all the delicious flavors that come from browning your meat (thank you, Maillard Reaction!) , but then you get evenly distributed heat to cook the rest of the inside of the meat without over-drying, burning, or ruining certain sections of it!
Once I started doing this to my steaks, I finally started making perfectly cooked steaks, consistently! Now that I have been keto for over a year and a half, I have had MANY times to hone in on my steak making skills (and tested many restaurant steaks as well)! I find that a nice juicy ribeye steak or a NY steak and some veggies cooked in ghee has the perfect macros for a dinner meal. This keto steak with butter recipe is SO easy to make once you've mastered it (it only takes 10 minutes!) and so it makes a regular appearance in my house.
There's quite a few little flavor tricks, and tips to making this keto steak with butter RESTAURANT STYLE! Making a restaurant style steak at home is all about the flavoring, the browning, the juiciness, and the doneness!
Before we get into that let's start with the MEAT!
What Steak Cuts Are Best For This Recipe?
What To Use

: Ribeye, NY Steak, or Sirloin

Ribeye Steaks are definitely my top choice. Not just because all the delicious marbelized fats that make them SUPER juicy and tender, but because they're usually slightly thicker cuts. Most often you find them right at about 1 -1.25 inches thick which are easiest to know the cook time for. In addition, all the marbling in these steaks make it quite a forgiving steak when it comes down to cooking it (it always tastes delicious ???? ). However, they're also some of the most expensive cuts to get! So, it doesn't have to be your ONLY choice for this recipe (there's more affordable choices!).
A NY Strip Steak is next in line for me, but many people love them and would put these first in their order. In terms of how the cooking method of this recipe will work with this steak and the general price, it's going to be the same as the ribeye. It doesn't have as much fat in it, so it's also slightly lower calories than the ribeye, but if you overcook by accident, it will seem a little less tender than the ribeye will. I had one these tonight though actually, and I have to say, it was MIGHTY tasty.
A simple top sirloin steak will do the trick nicely too. It's certainly cheaper than ribeyes and NY Strip Steaks! It has less fat than both ribeyes and NY Strips, but if you cook it right, it will still taste just as good 🙂
Point being here, ANY of these three steak cuts will be pretty gaurunteed to work great in this recipe. it's going to depend on your budget for what you decide to use!
What NOT TO Use: Hanger steak, flank steak, porterhouse (T-Bone) steak, or skirt steak.
Because this cooking method uses both a frying pan and an oven, it's better to stay away from bone-in steaks or very absorbent steaks. Meat usually shrinks when it's pan fried, and so bone-in steak cuts usually do not cook as evenly (you can try though, at your own risk!) and will not brown evenly either when there is a bone in the way :). Skirt steaks, Hanger Steaks, and Flanks Steaks are better meant for marinades (since they soak up liquids!), and short but super high heat fry times, so they are better left for other cooking methods (not this recipe- sorry!) as well.
Other Cuts That CAN Work (with recipe adjustments): Filet Mignon
Unfortunately, if you're just following my recipe, filet mignon will not quite work here. It CAN , if you just make some adjustments! The cooking method actually works fantastic for a filet mignon (omg especially a bacon wrapped filet mignon) but, the time that this recipe asks for in the oven, will need to be extended! Because the thickness of a filet mignon is usually about 2-2.5 inches, you will have to double (even slightly more than that) the COOKING time to use this cut of steak. 🙂 But, it is possible (yes, I have done it before!!!)!
TIPS TO MAKING RESTAURANT STYLE KETO STEAK WITH BUTTER :
1.) LET YOUR STEAK COME TO ROOM TEMP (AT LEAST 20-30 MINUTES) BEFORE COOKING.
Your steak will cook more evenly throughout when it's at room temperature! Setting it on your counter for at least 20-30 minutes before cooking, will help ensure the center is cooked exactly to your liking!
2.) SALT, SALT, SALT & SEASON LIKE NEVER BEFORE.
Salt your steaks so heavily that anyone who lived through the 60's 'salt is the devil propaganda' would have a mild heart attack just looking at it. Once you get it HEAVILY salted, and already think you've overdone it, THEN PUT ON ANOTHER LARGE COATING OF SALT on it. Put SO much salt and seasoning on it, that it looks like it's covered with sand, and there's NO smoothness less on the surface! Okay?!?! Just trust me. Most of the salt cooks off into the butter in this recipe and ends up in the bottom of the pan anyways. But the salt and seasoning are what are responsible for the SCRUMPTIOUS crust that will make this taste like a restaurants.
What seasonings do I recommend besides salt? A hearty dusting of onion powder, a hefty dusting of garlic powder, and a big time sprinkling fresh ground pepper COATING your steaks. 🙂
4.) USE A DRY, SUPER

SMOKING HOT

PAN.
Get your DRY (no oil!) pan SUPER hot before before searing your steaks in it. When I say hot, I mean hotter than haides…..your pan should literally be SMOKING before your steaks go in it! The hottest sear creates the BEST, most flavorful browning! Cast Iron Skillets work BEST here, but if you're like me and like to do 3 or more steaks at once then you probably won't have large enough cast iron, so any oven safe, non-stick skillet will do just the trick. It MUST be oven safe though, so we can pop the entire thing in the oven to finish cooking it without losing any pan heat while transferring.
When you first flip them, they should be NICE and DARK Brown with some little almost blackened spots. Don't worry, they're not burnt- that's EXACTLY how we want them to look. This is the flavoring MAGIC.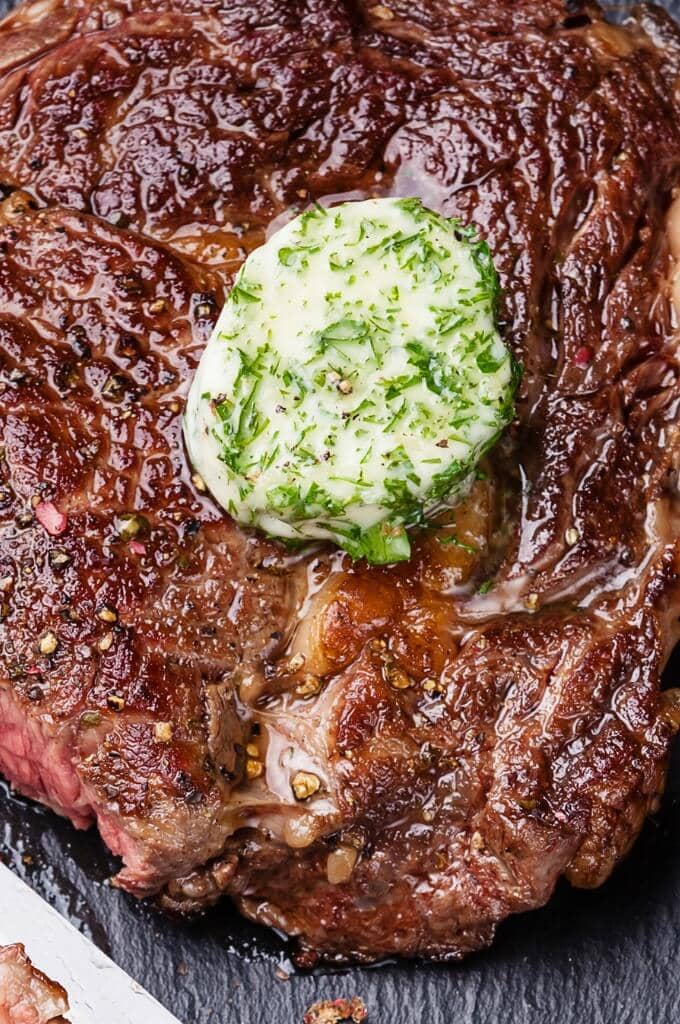 5.)DON'T TOUCH YOUR STEAKS WHILE SEARING.
Once your steaks are in your super hot smoking, DRY skillet, then DO NOT NOT TOUCH THEM until they're ready to flip. Don't move them around the pan while they're searing. Do not lift them up even just to see if your hot pan is burning them or not. TRUST ME. 30-40 Seconds in a blazing hot pan, will not burn them, and even if they were almost burning – THAT IS WHAT WE'RE AIMING FOR HERE!
6.) ADD CHUNKS OF BUTTER ON EACH STEAK BEFORE FINISHING THEM IN THE OVEN.
Adding a hearty chunk of butter (1/2-1 Tablespoon) on top of each steak just before putting them into the oven to finish cooking them, helps tenderize the meat and adds some MEGA flavor. The butter will be perfectly melted on top of each at the end of the 2-3 minute oven cooking time, and will be magnificently cascading over the sides of your steaks. Not to mention, it makes the little bits of butter that do end up in the bottom of the pan, start browning to make a KILLER buttery, seasoned sauce you can drizzle the excess of over your steaks just before eating!
7.) FOLLOW THE COOKTIME CHART OUTLINED HERE (OR USE A MEAT THERMOMETER):
How long should you leave them in the oven? The time is not a set and fixed amount, because it's going to vary based on how thick your steaks are and how you'd like them cooked. This TIMED guide in the recipe and below is for medium-rare steaks. If you want to add 30-45 seconds or so in the oven, to each depending on the thickness time window, then you're welcome to and you will end up with more of a medium cooked steak. If You want it RARE, then you'll drop 15-30 seconds off the cooking time. If you want well done steak…. well, I don't know if I can help you. In my opinion NOBODY'S STEAKS SHOULD EVER BE WELL DONE (it's JUST not right okay!?).
For a 1 Inch Thick Steak Cut (most common!)

– Bake for 2 – 2.5 Minutes.

For a 3/4 Inch Thick Steak Cut-

Bake For 1.5 minutes -2 Minutes.

For a 1.25 Inch Thick Steak Cut-

Bake for 2.5-3.5 Minutes.

For A Thinner than 3/4 Inch Cut Steak-

you might not even need to finish this in the oven! Just searing it will cook it to rare and almost medium/rare depending on how hot your pan really was. If you want it just a little bit more than medium-rare (or if you don't want to risk it being slightly too rare), then bake it for ONLY 30 seconds – 1 minute.

For a steak thicker than 1.25 inch

– Bake it for 3 -4.5 Minutes. You may want to use a meat thermometer to ensure it's baked to your liking though, it's harder to predict with slightly thicker steaks exactly what you're cooking time will be! Any thicker than a 1.25-1.4 inchish steak, and you're probably using a different CUT steak than recommended (ie. a Tomahawk or a Filet Mignon), in which case you will need to add even MORE time.
I will recommend, in either case, to GUARANTEE that your steak is cooked perfectly to your liking, you invest in an oven safe meat thermometer, or an instant read thermometer (to check it once you pull it out of the oven) help you PERFECT exactly how much time you need per thickness level in YOUR OWN OVEN. I do have the guidelines above, that work PERFECTLY, but that's with MY oven. Every oven will vary slightly (especially older ovens that don't cook as evenly!).
Here's what temperature the middle of your steak should be when you REMOVE it from heat (remember the temp goes UP 5°F just while it's resting on your counter after taken away from heat!)
WHAT TEMP °F TO REMOVE YOUR STEAK FROM HEAT, BASED ON YOUR DESIRED LEVEL OF DONENESS (these are 5°F lower than finished temp):
Rare:

@ 120° F Remove From Heat
Medium Rare: @ 130° F Remove From Heat

Medium:

@ 140 °F Remove From Heat

Medium-Well:

@ 145° F Remove From Heat
8.) LET YOUR STEAK REST 5 MINS AFTER COOKING & BEFORE CUTTING:
Believe it or not, your steaks actually CONTINUE COOKING for about 5 minutes after they come out of the oven! If you were to take the temperature of the middle of your steaks right after they come out of the oven, and then 5 minutes after resting on them on the counter on a plate, the temperature actually rises about 5 degrees in the center!!!!! For this reason, we do NOT want to cut into the steaks BEFORE THEY'VE RESTED for 5 minutes!!! They will be sooooooo much juicier, tender, and cooked more perfectly if you wait. 🙂
That's it! These things, although minor and some may say are not 'necessary' for a steak, are what will transform any old steak into a delicious, drool-worthy, RESTAURANT STYLE Keto Steak, made in your own kitchen. It only takes 10 minutes from dropping into the hot pan to making it's way to your belly. Now that's a dinner that I always have TIME FOR!
If you need a speedy side to couple with your steak, asparagus is my GO TO. It pairs perfectly, is low carb, and really will finish this dish like they would at a restaurant. I like to blanch my asparagus first, then pan fry in avacado oil and salt and pepper for a short time. This whole process takes under 5 minutes and can be easily made while this steak is in the oven and resting (before eating). Here's a quick recipe that shows how to blanch, then pan fry asparagus!
Print
Restaurant Style Keto Steak With Butter
---
Author:

Total Time:

10

Yield:

2

–

3

Steaks

1

x
Description
Make A Restaurant Style Keto Steak right in your own home, in UNDER 10 minutes.  You'll be blown away by how much tastier the littles differences to your standard steak can make this. What are the secrets here? Temperature, BROWNING, Seasoning, A SIZZLING hot dry pan, finishing it in the oven, and GOBS OF BUTTER! 🙂  Try this method, you WON'T regret it!
---
2 –3 Steaks Of Choice ( Ribeye, NY Steak, or Top Sirloin)  *see recipe notes for different thicknesses
Salt (preferably NOT plain table salt – Either Maldon Sea Salt, Pink Himalayan Sea Salt, or Koscher Salt)
Fresh Ground Pepper 
Garlic Powder
Onion Powder
1/2 – 1 TBSP Butter, PER STEAK
Avacado Oil (Optional for Ribeyes/NY Steak, Suggested for Sirloins!)
---
Instructions
1.) Bring steak to room temperature, at least 20-30 minutes prior to cooking (just by leaving it on the counter!). 
2.) Preheat Oven to 450°F.     
3.) If using a Sirloin, pat dry each steak and lightly rub Steaks with Avacado Oil. If using NY Steak or Ribeye then added oil is totally optional (and not needed really), so you can just pat dry if desired.   Completely (and evenly as possible) cover steaks with salt. TIP: Hold your hand about 10 inches above your steak when adding salt and seasoning as this helps it get more evenly distributed! Whenever you think you have enough salt, add a little bit more (seriously!) 🙂   Sprinkle each steak with a decent amount of garlic powder, onion powder, and lots of fresh ground pepper.   Your steaks should appear to look  very sandy on both sides from ALL the salt and seasoning!  (Trust me, the more seasonings and salt, the better the crust on this steak.  It may look gritty with it all, but this will almost all disappear as it cooks!)  Set seasoned steaks aside, while you heat your frying pan. 
4.) Put a large Cast Iron Skillet or Oven Safe, Non-stick Skillet On the Stove over HIGH heat for 1-2 minutes (or until you visibly see the pan smoking!).  Once your pan starts smoking, then  gently place your steaks into the searing HOT, DRY skillet (dry- meaning NO oil added to the pan) and allow them to cook over high heat for 30-40 seconds. Flip your steaks and cook the other side for 30-40 seconds.  DO NOT TOUCH OR MOVE your steaks during the 30-40 second sear of each side (this is when the salts/spices make a crust that you don't want to disrupt!).  Immediately after searing (your steaks should be QUITE browned!), turn off the burner.    Quickly drop 1/2- 1 Tablespoon of Butter on to top of EACH steak.     Immediately put your  entire pan  into the preheated 450 °F Oven to finish cooking- SEE OVEN COOK TIME BELOW.  If you want to add an oven safe thermometer to one of the steaks, do so before putting into the oven.
5.) Bake Steaks with Butter with the general timed guide below, which is based off the thickness of your steaks as follows (this is a general guide, and works pretty well if you don't have a thermometer!).   Adjust cooking time slightly if you desire a different level of doneness (suggestions below cook times).
For Medium-Rare Steaks That Are a  : 
1 Inch Thick Cut (most common!)

– Bake for 2 – 2.5 Minutes.

3/4 Inch Thick Cut-

Bake For 1.5 minutes -2 Minutes.

1.25 Inch Thick Cut-

Bake for 2.5-3.5 Minutes.

Thinner than 3/4 Inch Thick Cut –

you might not even need to finish this in the oven! Just searing it will cook it to rare and almost medium/rare depending on how hot your pan really was. If you want it just a little bit more than medium-rare (or if you don't want to risk it being slightly too rare), then bake it for ONLY 30 seconds – 1 minute.
***For A Steak That is more medium doneness, add about 15-30 seconds to the above thickness baking time guide.
***For A More Rare Steak, subtract 15-30 seconds from the above baking time guide.    
Please keep in mind that times will vary slightly based on YOUR Oven (which might just take some practice to nail!). 
If you have an instant read thermometer, here are the temperatures that your steak should be at WHEN  the steaks are removed from heat (the temp goes up 5 °F as the steak rests on the counter away from heat). For Doneness of: 
Rare:

@ 120° F  ,Remove From Heat

Medium Rare:

@ 130° F Remove From Heat

Medium:

@ 140 °F Remove From Heat

Medium-Well:

@ 145° F Remove From Heat
6.) After Removing Pan from the Oven (Carefully!!! Don't forget two hot mitts!!!!), transfer steaks to a plate and let the steaks  REST  for 5 MINUTES (don't skip this step!) before cutting into them. You can make a foil tent over them if you like, but it's not required.   They will continue to cook as they rest and will be much juicier this way!!  Use  the butter and drippings that remain  in bottom of your frying pan to drizzle over each steak, if desired.  ENJOY!!! 
Prep Time:

5

Cook Time:

5

Method:

Fried and Baked