THIS POST MAY CONTAIN AFFILIATE LINKS FOR PRODUCTS THAT I PERSONALLY USE AND RECOMMEND. IF YOU MAKE A PURCHASE THROUGH ONE OF THESE LINKS, I WILL EARN A COMMISSION AT NO EXTRA COST TO YOU.
These Keto Maple Donuts are utterly delicious, extremely low carb, and actually really easy to make! These guys are seriously to die for, and best of all you can enjoy them GUILT FREE (.6 g net carbs per donut)! Although, donuts are considered a breakfast food, chances are you'll find yourself indulging in them at ANY time of day- even for dessert! They do involve a few steps extra steps to make, but the bake time is short and I promise you will not regret ANY of it! This recipe makes exactly a dozen donuts (but you can cut in half for less!). They are best made with a pair of donut pans (for 12 donuts); however, you can totally make them without a fancy pan.
I am huge proponent of making recipes that are extremely low carb ….. I mean, the lowest carbs possible without sacrificing any texture or flavor. Quite a few of my recipes use a special ingredient or two in light of this goal, and this is one of those recipes????. These ultra low carb, keto maple donuts use a special baking blend, called the Trim Healthy Mama Baking Blend. It's a low carb, gluten-free and non-GMO "flour" made in Australia (you can get it on AMAZON though with the link above!) specifically made for the carb conscious! It was one of the first low carb 'flour' blends that I bought when I went Keto, just because it was in a recipe that I wanted to try. I ended up loving it! You can also purchase the THM Baking Blend in bulk, direct, for a lower cost if you end up loving the blend as much as I do!
I've used the Trim Healthy Mama Baking Blend in SO. MANY. RECIPES as the substitute for flours, simply because it's SO low carb and results in awesome texture. It's only 1 gram of net carbs per 1/4 cup! It's a pre-mixed blend of Collagen Peptides, Almond Flour, Coconut Flour, Oat Fiber, Flax, and Glucomannan, and is nice and high in fiber . I don't have any of the other recipes using it posted yet but there will be tons coming! Later this week I will be posting my super low carb, EASY KETO BLENDER PANCAKES that use this same blend as the main ingredient (they're only 2 g net carbs per 9 pancakes and are the best keto pancakes I've ever made!). This baking blend is worth it to try even if it's JUST solely for these low carb maple donuts AND for my Keto Blender Pancakes. I PROMISE – you will NOT BE DISAPPOINTED.
My keto maple donuts are adapted from www.gnom-gnom.com 's Keto Donut recipe. The recipe is VERY similar (with different steps and toppings) except mine use the trim healthy mama baking blend as the main ingredient instead which cuts the carb counts in half. If you don't want to try the Trim Healthy Mama Baking Blend in this recipe, then you can make the plain donuts using Gnom Gnom's recipe (HERE) and method. Then, just finish the rest of my steps (frying them) and making the frosting as listed below in my recipe to get keto maple donuts but they will be double the carbs (that's still only a little over 1 g net carb per donut though).
Keto Maple Donuts Ingredients and Instruction Notes:
The maple frosting that I made to go on top of these donuts has a few options for the sweeteners, and one specific extract I do suggest you use for the best results. For sweeteners, I have used a blend of Erythritol and Allulolse or Xylitol, and I've also used ALL Erythritol (powdered and granular). Allulose or Xylitol perform nicely in combination with the Erythritol in this recipe, because allulose and xylitol are zero carb sweeteners that don't crystallize after cooling (they were AWESOME in caramels and syrups)! Erythitol tends to form crystals when it's cooled, even if you've used the powdered kind. I personally don't use Xylitol barely ever, because it's toxic to dogs (or cats!) and I have two huskies ???????? that lick up EVERY single crumb of anything that falls on the floor. So, use xylitol with extreme caution if you have four legged friends in your house.
This frosting does require both granular and powdered sweeteners, so you can mix and match brands/sweeteners based on whatever you have on hand. The photos shown were taken with a maple frosting that was ALL Erythitol, so you can see they still work great even with a little crystallization.
The maple extract that I recommend using is MAPLEINE! Yes, it's an imitation extract, I know; however, the flavor, color, and potency are hands down better than any other maple extract I've used. We're using such a small amount of it, that I am not worried about it non being real and organic. You can usually find it at most grocery stores too!
The method that we use to make these does require a few extra steps. First, we make the batter using a method that is basically the same method you method you use to make Eclairs or Cream Puffs ( a Pâte à Choux). First, you heat the dough (without the eggs and a few other things) in a pan over stove until it resembles a thick (not sticky) ball of dough, then you let it cool for a few minutes and add in the rest of the ingredients so it forms back into a wet pipeable batter. You then pipe the now re-goopified batter into your donut pans (or freehand it into circles on parchment paper) and bake it!
FRYING THE DONUTS: Once the donuts are done baking and have cooled for a few minutes, you FRY them in a pan with just a few tablespoons of hot oil! I used Avacado Oil because of it's high smoke point (please DON'T????‍♀️????‍♀️????‍♀️ use Vegetable Oil or Canola Oil here for your HEALTH!☠) and we could not taste it all ????. Do you have to fry them? NO, but I do strongly recommend it! I've made these pillowy soft keto maple donuts without frying them and they were still really good. Once I finally realized that frying them would get the outside edges crispy (JUST LIKE A BEIGNET!!), then they turned into some SERIOUSLY next level keto donuts
The first thing my husband says to me when he sees these donuts is, "Ummm… aren't they a bit overdone?" because of the dark color on the donuts exterior. Then he took one bite, and said, "wow those are GOOD!". 🙂 So, if you were thinking the same thing, yes the color on the donut look dark on the outside, but that is just the result of frying them! Don't worry, they are not overdone – they're supposed to turn golden brown ( not black though as that would be overdone) when you fry them!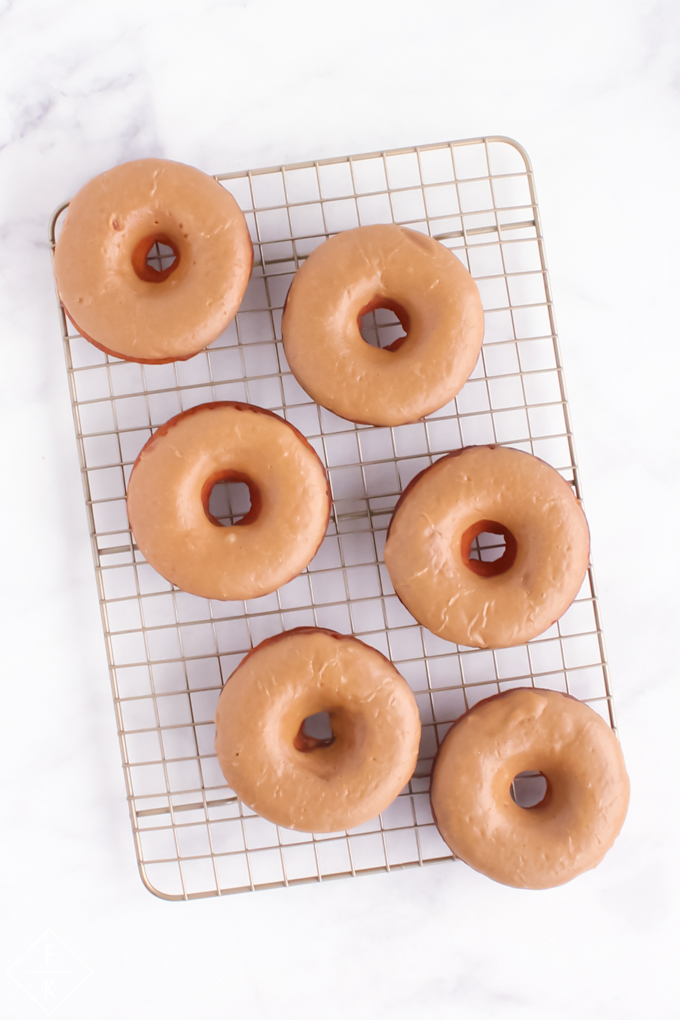 Can you make them dairy-free? If you want to make them dairy-free, you can substitute coconut oil for the butter and coconut cream or full fat coconut milk (for coconut canned milk, use a little less for this one since it's thinner) for the heavy cream. The taste obviously will be altered slightly with hints of coconut, but most dairy free recipes do so you might know that already 😉
If you've been craving donuts on your low-carb diet – you NEED TO TRY these keto maple donuts. I mean NEED.
If you're looking for fun and different breakfast ideas, then you might also Love my Keto Dutch Baby Recipe!
Print
Keto Maple Donuts – Low Carb, Gluten Free, & Sugar-Free
---
Author:

Total Time:

35

Yield:

1

2

1

x
Description
These Keto Maple Donuts are extremely low carb (.6 g net carbs per donut), gluten-free, and sugar-free, and GUILT FREE. They're pillowy soft on the inside, slightly crispy on the outside from frying (like a beignet!), with a sweet & creamy maple frosting. Make them with or without a donut pan. Eat them ANYTIME of day.
---
For The Donuts:
1.5 Cups Trim Healthy Mama Baking Blend (Read Post Notes above for Sub ideas but this is what makes them so low carb and extra soft)
1 Tablespoon Psyllium Husk (powder)
1.5 Cups Water
7 Tablespoons Butter (can sub coconut oil if dairy-free)
6 Tablespoons Erythritol (granular)
1/2 teaspoon Salt 
4 eggs 
2 teaspoons Vanilla Extract
2 teaspoon Baking Powder
1.5 teaspoons Xanthan Gum
1/4 Cup Avacado Oil For Frying ( plus more if using small pan for multiple batches)
2 Donut Pans greased with avacado oil spray (or a parchment lined baking sheet with donut sized circles drawn on it)
For The Maple Frosting:
2 Tablespoons Butter (can sub coconut oil if dairy-free)
2 Tablespoons  Erythritol (granular), Allulose, Or Xylitol (see post notes on sweeteners)
1/4–1/2 tsp maple extract (Mapleine is my favorite, may need more for other brands)
1/4 Cup of Heavy Cream, divided (can sub coconut cream for dairy free)
1/4 teaspoon Xantham Gum , or less
1/2 Cup Powdered Sweetener – I used Erythritol (powdered) 
---
Instructions
For The Donuts:
1.) Preheat Oven to 400° F. Spray donut pan with avacado oil spray or  a baking pan with parchment paper. Draw donut sized circles on underside of parchment paper as a guide for piping if not using a donut pan.
2.)Make the donuts.  Whisk or stir together Trim Healthy Mama Baking Blend and Psyllium Husk Powder together in a bowl and set aside.
3.) In a medium-sized nonstick saucepan or a dutch oven, add water, butter, Erythritol granular (6 Tablespoons) and salt until boiling. Lower heat to a little higher than low-med and add in flour/psyllium mixture, mixing constantly to incorporate. It will start out looking like mush.  Continue to cook and stir around with a spatula, folding it over and over again within the pan until ti starts to 'dry out' a bit. The dough  will form into a ball in the center of the pan, anywhere between 1-3 minutes. Let it cook for another 30-60 seconds to get a little drier exterior.   Remove from heat and place in a bowl  or a stand mixer to cool for 5 minutes! 
4.) After the dough ball has cooled for 5 minutes, add in your eggs and mix with an electric hand mixer or a stand mixer until mixed somewhat (will be chunky still). Mix in vanilla extract and baking powder and mix for another 30-60 seconds.   The dough should be wet and mushy, but not so thin that you could "pour" it. 
5.) Spoon your batter into a LARGE ziploc bag or piping bag and condense it into a bottom corner.  Cut the corner of the bag with  a cm wide whole. Pipe your dough into the donut pan, filling each donut cavity almost up (it will nearly double in size when cooked). Wet your finger tips with water and smooth out the dough and make sure the dough connects all the way around.  If using a parchment lined baking sheet, pipe dough into round donut shapes within your drawn on circles.    Wet fingers to smooth, connect, and shape same as above.
6.)Bake donuts for 6 mins at 400° F degrees then turn down to 375° F and bake for 10 more minutes.  Cover your donuts with aluminum foil and bake for 10 more  minutes or more after that until lightly golden in color.  The foil helps to keep them from over browning.  Allow donuts to rest in pan for 5-10 minutes before removing.
7.) Heat a large frying pan with 1/4 cup of avacado oil on med-high heat (I heated mine for about 6 minutes).  Once your oil is hot place your donuts in the oil, and let cook for 20 seconds on  EACH side.    The donuts will turn a darker golden brown when frying, and that's okay, just watch out for them burning if your oil is too hot.    Remove fried donuts from pan and place on papertowels to cool while you make the maple frosting.
For The Maple Frosting:
1.) Heat butter and brown sweetener (allulose, erythritol, or xylitol) and half the  heavy cream (set aside other half for later step),  in a sauce pan  on low- medium (mine was level 4 out of 10 heat) for 3-5 minutes.  It should start bubbling gently after about 2 minutes.  Stir occasionally (every 30 seconds or so), once it starts bubbling.  After 5 mins (should like a bit thick like a thin sort of caramel) remove from heat. Stir in Maple Extract.   Then, Sprinkle on the xantham gum little bits at a time while CONSTANTLY stirring with a whisk (we don't want it to clump).     Let cool for 2-3 minutes.   
2.) After frosting base has cooled for a few minutes, add the powdered sweetener and whisk vigorously until fully combined and smooth.   It should look thick and creamy by now. Add the rest of the heavy cream, 1-2 tsps  at a time to get it to the right color and consistency you like your frosting.  If it is too thick, then heat it back up on the stove for 30 seconds or so while whisking to get to desired consistency.   If it's not thick enough (will thicken a little bit further as it cools further keep in mind!) then add more powdered erythritol. 
3.) Dip the top side of each donut into the maple frosting, letting it coat for a few seconds, and pull straight up and out, pausing to let any excess frosting drizzle down back into the rest of the frosting.   Set the donuts, frosting side up, on a plate or rack, to rest and harden for a few minutes.
Enjoy Donuts Fresh and Warm.     Refridgerate any leftovers (dont stack or the frosting will get messed up!).  You can re-warm the donuts in the microwave for 5-10 seconds before eating leftovers if you like them warm, or enjoy them cold!! 🙂
Notes
Net Carbs = .6 grams per donut
*Sugar alcohols  from erythritol are not counted in total net carbs, since they don't affect blood sugar (they're 0 net carbs)! 
Carb counts vary based on the brands of each item used.  My calculations are for the brands listed/suggested.
Prep Time:

15

Cook Time:

26-28

Category:

breakfast

Method:

baked and fried
Nutrition
Serving Size:

1 donut (makes 12 donuts)

Carbohydrates:

Net Carbs .6 g
Keywords: keto, donuts, breakfast