THIS POST MAY CONTAIN AFFILIATE LINKS FOR PRODUCTS THAT I PERSONALLY USE AND RECOMMEND. IF YOU MAKE A PURCHASE THROUGH ONE OF THESE LINKS, I WILL EARN A COMMISSION AT NO EXTRA COST TO YOU.
These Keto Corn Tortillas are the closest you can get to the real thing without all the carbs. They're flexible and actually taste like Corn????! They're easy to make since they're made in a food processor, rolled out with just a rolling pin, and cooked on a griddle in 30 seconds! They hold together surprisingly well which makes it possible to roll them thin and smooth, and they keep great in the refridgerator, so you can enjoy leftovers all week! I have yet to find another Keto, low carb tortilla recipe I've found that beats the flavor or texture of this recipe. If you are missing corn tortillas, then you MUST give this recipe a try!!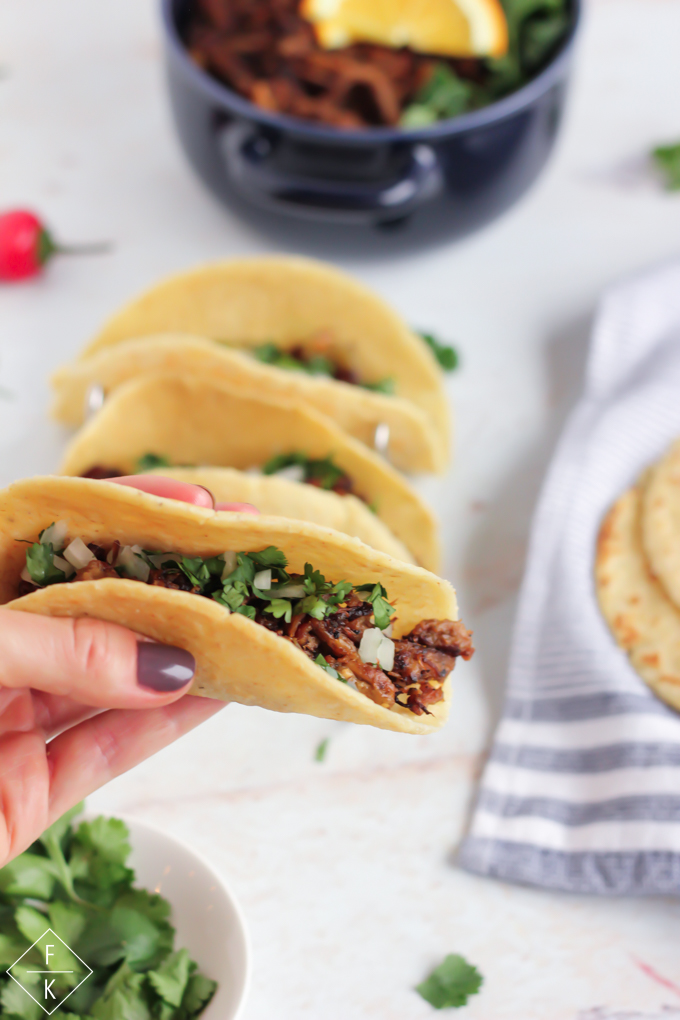 Taco Tuesdays have been a tradition in my household since before I can remember! When I was young (and still to this to this day) tacos were one one of my all time FAVORITE foods. Not just any tacos though- tacos with CORN tortillas. We did NOT have a lot of money growing up, so birthdays meant we got to pick a homemade dinner for my mom to make us. Do you know what I always picked for mine? TACOS!!!!!!
Corn Tortillas are traditionally made with Masa Flour – which is made from finely ground hominy. Hominy is just food made from whole corn kernels; thus, corn masa flour is pretty high in carbohyrdates. As soon as I went Keto ( beginning of 2018) and realized I couldn't have my beloved corn tortillas- I ALMOST considered cheating JUST FOR THE TORTILLAS….. I said… almost… but I didn't 🙂
At first, I just switched my taco tuesdays to taco 'salad' tuesdays, which still pretty tasty…. I just piled all of my favorite taco ingredients on top of a bed of lettuce, and blended all the condiments (salsa, sour cream, sometimes a little lime juice) into a salad dressing and poured it all on top. Taco Salad Tuesdays weren't too bad at all, but after I while I caught myself still dreaming of my beloved corn tortillas! So, I worked and worked, time and time again, each week to create the PERFECT keto-friendly, low carb corn tortilla substitute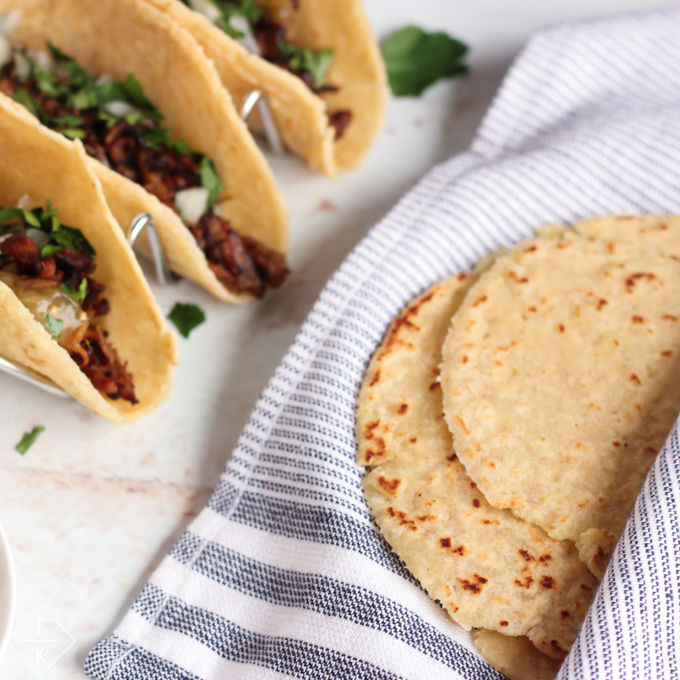 I am SO excited to finally share this recipe, since I worked on it for so long! These keto corn tortillas taste SOOO good, that I no longer miss the real thing. Are they as easy as store bought high carb corn tortillas? NO. But they're really not that hard to make at all, and they don't take very long! The recipe makes about 9 tortillas (depending on how thin you roll them), so you'll have some you can use the next day for keto breakfast tacos (seriously, my 2nd favorite food) or leftover lunch tacos. I've even left them in refrigerator for 4-5 days and they were perfect still!!
The process of rolling and transferring these keto tortillas to a hot griddle to cook, is a tiny bit tricky. If you use my tips though, it's a breeze! You'll be living la keto loco???????????? in NO TIME with these amazing low carb tortillas!!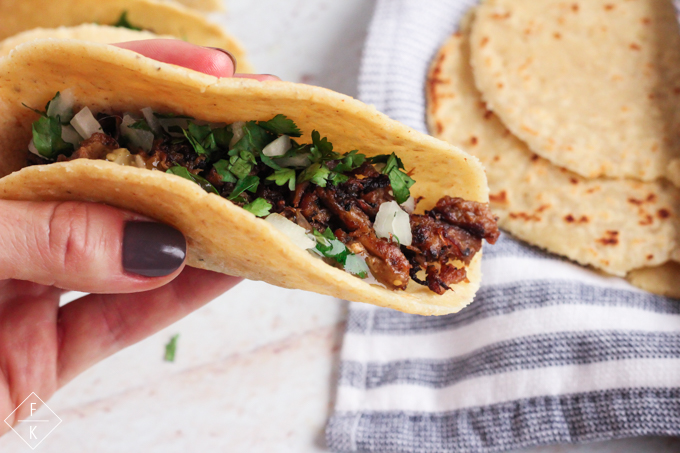 Tips For Making Keto Corn Tortillas Perfectly Every Time:
Mixing The Tortilla 'Dough': You will NEED to use a food processor for this recipe. It's kind of like making pie crust- where you don't want to overprocess them, but you need them to be mixed fairly thoroughly if you want to get a smooth & uniform result. Just follow the recipe directions exactly, and you'll have no issues 😉
Rolling the Tortillas Out: When I first started making these keto corn tortillas, I was using my tortilla press. It worked fine and they were totally edible, but I didn't feel like they were EVER smooth enough, and they had some small cracks in the edges. Without the same elastic properties as an all masa flour tortilla, I realized I needed to start rolling them sintead. That way, I could control the pressure in each area of the tortilla as I rolled it, and prevent it from cracking on the edges. I strongly recommend ROLLING these tortillas instead of using a tortilla press. MAYBE, JUST MAYBE, if you're a SERIOUS pro and have nicest tortilla press out there, then it might work just fine to use one.
Lining The Counter And The Dough: You need to line the counter with something under the tortilla dough, and you also need something on top of the dough in between the rolling pin ! I have found this method to work the best: One sheet of parchment paper and 1 sheet of seran wrap! I put lightly greased (with avacado oil spray) parchment on the counter layered on top of either a silipat or a damp paper towel (to prevent it from sliding when rolling), THEN I put a very lightly greased (with avacado oil spray) Seran wrap layer over the top of the dough. I push down each tortilla dough ball with my fingers first in between the two sheets, until it's a large flattened disc, then I roll it with the seran wrap on top to get it nice and thin. You don't want it TOO thin, but about the same or just barely thicker than a real corn tortilla. In general use even pressure when rolling across the whole tortilla, but if one area is getting to thin, then apply more pressure to the thicker areas to push some of the dough lightly over to the thin spot.
Shaping & Cooking Your Keto Corn Tortillas: After you've rolled your dough nice and thin, you take the seran wrap off the top, cut a circle out by pushing down into it with a bowl or a pan lid the size you want your tortilla. Pull away the excess dough and reserve it because you can re-roll it to make more tortillas at the end. What you should be left with is a perfect little dough tortilla on your parchment paper. See photos of the steps of rolling and shaping below.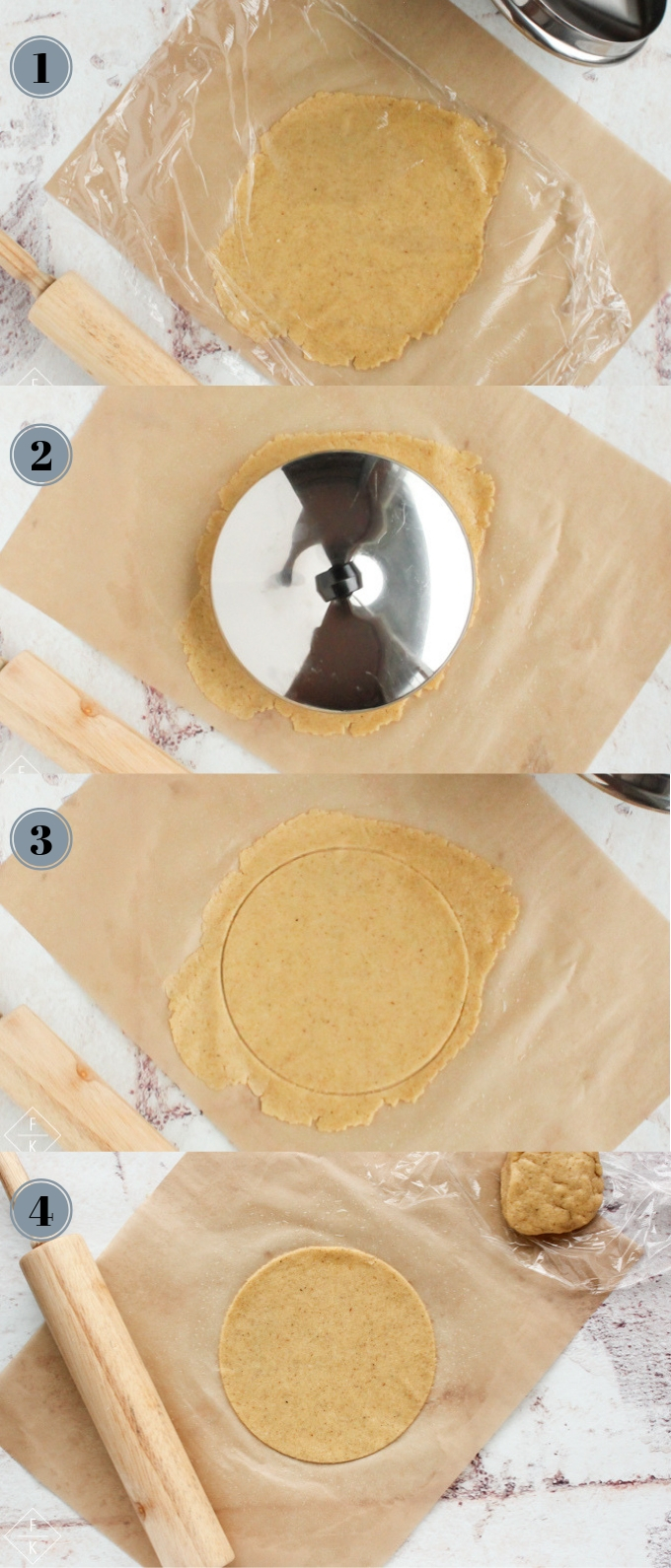 Take the whole sheet of parchment paper, with the tortilla and gently flip the paper and tortilla upside down onto the palm of your hand. It should fall fairly easily off the parchment paper when upside down into your hand. Then quickly use your hand to flip it again right smack dab onto your HOT AND GREASED griddle! I love THIS Griddle Pan, and I just use Avocado Oil spray to grease it. Then, you want to Cook each tortilla FOR ONLY 10-15 SECONDS each side on an already hot griddle. Any longer than that, and you're going to end up with a crispy, cracked, and falling apart tortilla! If you start cooking the tortilla on a cool pan, as it heats up, then your tortillas will also be cracked and brittle by the time the pan comes to high enough heat. The griddle must be HOT (plus that's how you get those little classic Tortilla char marks!). I usually put my griddle pan
You can flip the tortillas one more time to melt some cheese on them, if that's your thing (I love melted cheese on mine), but you will want to turn the burner off and cover the griddle with a pan lid to trap the heat and melt the cheese, without overcooking your tortilla.
Fill these tortillas with WHATEVER taco meat or protein you like best- shrimp, fish, carnitas, ground beef, ground turkey meat – ANYTHING!! I enjoy these keto corn tortillas with ALL of the above, but my MOST favorite is my Keto Crispy Carnitas!! (I'll be posting this recipe TOMORROW!)
They make great quesadillas, huevos rancheros (without beans of course), and really really fantastic BREAKFAST TACOS. I'm drooling remember the last ones I made with melted cheese, leftovers of my keto crispy carnitas, cilantro, scrambled eggs, pico de gallo, sour cream, and avacado. AHHH????. I could eat breakfast tacos EVERY. DAY. OF. THE. WEEK. EASILY.
Print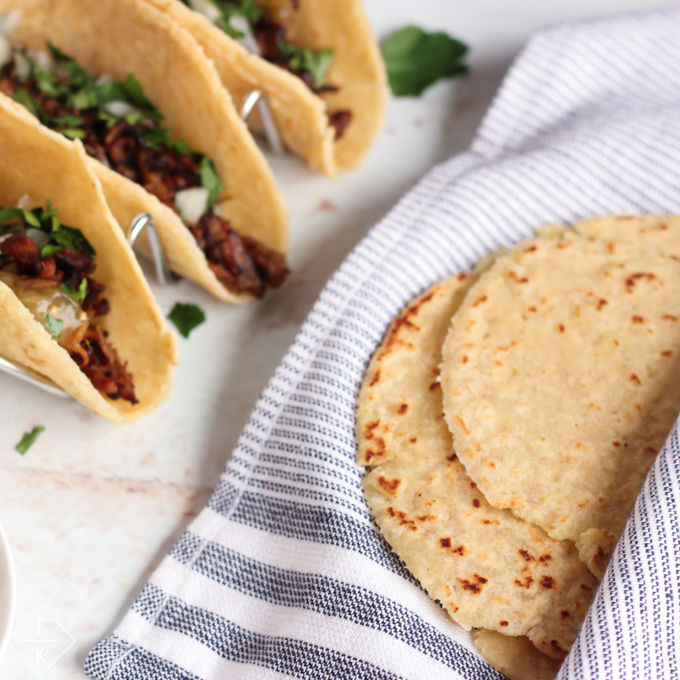 Keto Corn Tortillas – Low Carb & Gluten-Free
---
---
Instructions
1.) Combine all the dry ingredients – almond flour, masa flour, psyllium husk, xantham gum, garlic, cumin, salt- in a food processor.   Blend for 30 seconds until evenly combined and ground into a fine powder. 
2.) Whisk together egg, warm water, and amoretti sweet corn extract in a seperate bowl.   Add to your food processor and pulse until a round dough ball forms.  
3.) Take your dough ball out (careful not to touch the blades!) and place in a well greased (lightly sprayed with avacado oil) seran wrap.   Squeeze the dough ball around a bit in the seran wrap to make a thick disc shape.  Place Dough in the fridge for 5 minutes. 
4.) Prepare your parchment paper for rolling on the counter.  Place a silipat mat or a damp paper towel underneath the parchment paper to keep it from sliding around underneath the dough.   Cut a large piece of seran wrap and lightly spray with avacado oil spray. Set aside. 
5.) Place a large nonstick skillet or square griddle pan on the stove to heat at medium to medium/high heat.  Let it heat up while you roll the tortillas 🙂
6.) Take your dough ball out of the fridge and cut into 6-8 even pieces (you will re-roll the excess dough from each tortilla to form more later).   Take one chunk of the tortilla dough and place on the parchment paper.  Flatten out gently with your fingers, until it forms a round shaped thick disc.   Place the oiled seran wrap on top and roll the dough  the rest of the way into a circular shape about 1/4 thick or as thin as you can get it without breaking it.   Once it's as thin as you'd like,  remove the seran wrap,  and press a bowl or a saute pan lid the size you want your tortillas into the dough to cut a circle out.    Remove excess dough and save to re-roll for more tortillas later (see photos in post for guide and tips!).  
7.) Take your tortilla on parchment paper towards the stove. Spray your griddle pan or nonstick skillet with avacado oil spray.   Make your pan is hot (this is a must).  Flip over your parchment paper with tortilla on it into your hand (upside down). The tortilla should just about fall off into your hand or you can gently help peel it off if needed.  Then flip the tortilla again out of your hand and right into your hot pan!    Cook each side of the tortilla for ONLY 10-15 seconds.  If you overcook them, they will be become dry, brittle and will not be pliable! If your pan is not hot enough when placing the tortilla on it, then they will not cook enough!
8.) Repeat rolling, cutting, and frying steps for each tortilla, reusing the parchment paper and seran wrap pieces. gently knead together and re-roll any excess dough into additonial tortillas. (I can get 9 tortillas out of mine :).    If you'd rather fry all your tortillas at once, or make the tortilla dough ahead of time, you can separate each dough tortilla with parchment paper in a stack, cover the whole stack with a damp papertowl or airtight container and keep in the fridge until you're ready to cook.
9.) Store cooked leftover tortillas in the fridge in a ziploc bag or airtight container for up to 5 days.  You can also freeze these between pieces of parchment paper in an airtight container, and thaw in the fridge a few hours before eating.   
Notes
*Net Carbs = 2.5 grams per tortilla for small corn tortillas (size seen in photos)
Nutrition
Carbohydrates:

2.5 g net carbs