THIS POST MAY CONTAIN AFFILIATE LINKS FOR PRODUCTS THAT I PERSONALLY USE AND RECOMMEND. IF YOU MAKE A PURCHASE THROUGH ONE OF THESE LINKS, I WILL EARN A COMMISSION AT NO EXTRA COST TO YOU.
If you haven't tried a Keto Dutch Baby (also known as a German Pancake) yet, then you are surely MISSING OUT my friends! Not only are they one of the EASIEST breakfast 'pancakes' with barely any clean up required (one pan and a blender is ALL you need), but they're also exceptionally low carb! Without the use of regular flour or starch in any dutch baby recipe, the puff isn't quite as large as it's carb filled counterpart ( BUT there IS a DECENT puff though!); however, I promise the taste of THIS Keto German Pancake is on POINT, without comprising your carbs for the day. Only 1.4 G net carbs for half of the entire skillet pan pictured!
EDIT NOTE: As of 5.16.19 I have very slightly adjusted this recipe. The updated keto dutch baby recipe is NOW EVEN lower carb than before, AND results in a significantly larger 'PUFF' during baking!!! All nutritional data has been updated to reflect the new recipe 🙂
If you've never experienced a dutch baby, then let me try to describe what it's like for you. It has some similarities to a pancake (hence 'german pancake'), but with a bit of a different texture and much better flavor. It's more like if a yorkshire pudding and an american pancake had a baby – it would be a dutch baby ????….. if you've never had yorkshire pudding, then it could be compared to a cross between a quiche, a souffle, and a pancake. What makes it even better than any the standard american pancake though, is that it's coated with a delicious nutty brown butter flavor, because it's baked right in pan full of melted butter (???? praise the lard).
Traditionally, Dutch Babies are eaten with fresh lemon squeezed on top with a dusting a powdered sugar, which combines together to make a sort of lemony frosting. Since this is a sugar-free, KETO dutch baby, we can still enjoy it with the same topping but by using erythritol (powdered). If you're not into lemon flavored things at all, then these pancakes are still delicious with sugar-free syrup and powdered 'sugar', or some cut up strawberries and whipped cream.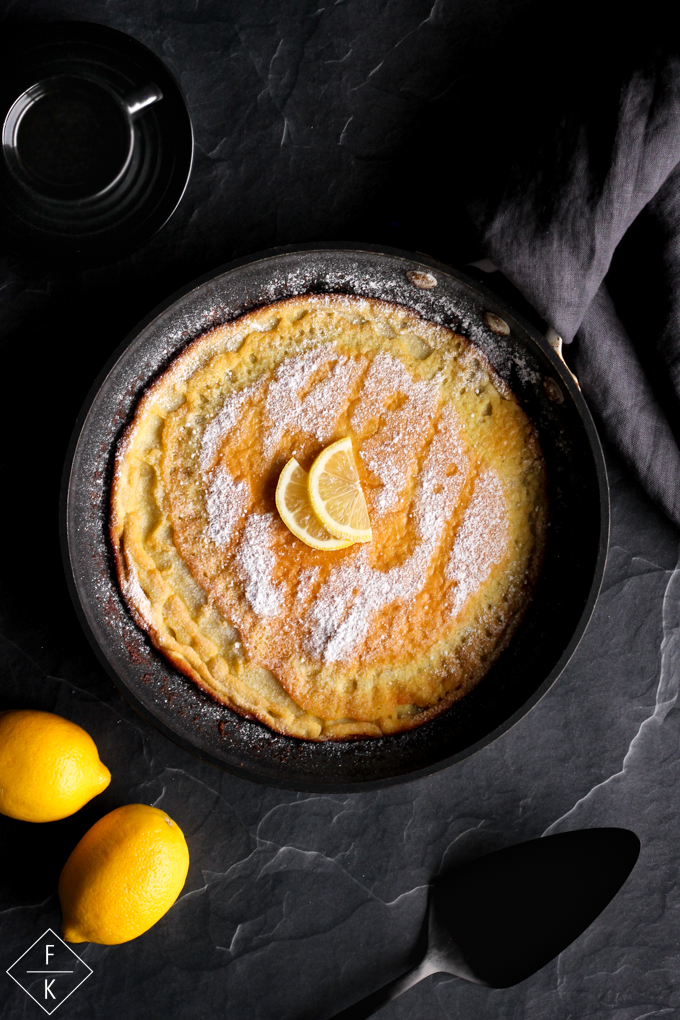 I've actually been making homemade dutch babies, since I was in 5th Grade -(non keto ones that is)! For 5th grade school project, we had to teach the class how to make something and of course I chose to show how to cook my FAVORITE brunch food, DUTCH BABIES, since I'd made them before with my mom. After that project, I had the easy measurements memorized and I would make a double batch of dutch babies for my family almost EVERY single sunday morning! I never stopped making dutch babies ever so often on a sunday morning as I got older (more like once a month though) and I continued that ritual EVEN after I went Keto with this Recipe! 🙂
In order to get the BEST texture, PUFF, AND flavor in this keto dutch baby, I used a mix of "flours"- Unflavored Isopure protein powder, finely ground almond flour, and ground psyllium husk. All three of these are a MUST HAVE, I hate to say. See, I found that the more protein powder you use – THE BETTER and better the classic dutch baby 'puff' you get in the oven ; however, the downside to more protein powder or TOO much of it is that You're left with a totally flavorless pancake. This is why I use almost equal parts almond and protein powder – to get BOTH FLUFF & FLAVOR.
What Pans Work Best To Bake My Keto Dutch Baby In?
Believe it or not, the type, size and shape of pan you use to bake your keto dutch baby will make a HUGE difference in how your dutch baby will turn out!!!! This is true for ANY kind of Dutch baby – carb filled or keto-friendly! This little tip is coming from someone who used to make dutch babies literally every sunday . I have used a HECK of a lot of different types of pans over my life time of dutch baby making ????. Seriously, I've probably used 30 + different pans.
First, your pan MUST be oven safe, which I think is a given, but I'll still point it out 😉
Second, it needs to be either non-stick, extremely well-seasoned (if it's a cast iron) ideally. You CAN also use ceramic or glass, however, those are not my first preference (but they still totally work).
Third, it MUST have a rounded edge or slightly angled edge to it (ie. like the pan in the pictures or a cast iron skillet!). The dutch baby will expand, grow and curl up the sides of your pan, so it needs a bit of a expandable ramp! For example, a brownie pan with 90 degree angled sides, will NOT work, because a flat wall that prevents it from growing while baking will equal a brownie shaped german pancake (it's JUST not the same!!!).
Fourth, pan SIZE Does matter. If your pans too big, then the dutch baby will look flat and just like a puffy pancake. If you're pan's too small, it will puff enormously, but be a little too thick! So, What's MY favorite pan to use? My pre-seasoned Lodge Cast Iron 9 Inch Skillet (Click link for exact pan on Amazon!) OR my 10 inch Calphalon Non Stick Frying Pan (Here's a link to the Calphalon Frying Pan). The Most important piece of the size of these pans???? Is the diameter of the very base ( just the bottom flattest part) is AROUND 7 INCHES. A base width of 6.5 inches to 8 Inches is going to be IDEAL forr this to turn out right. If the diameter of the base of your pan (just the flat part I'm talking about here!) is any larger than 8 inches, then you won't have enough batter to 'grow' and 'curl' up the sides of the pan like a true dutch baby would! You can certainly make a bigger batch (ie add 1 egg and a third more of the rest of the ingredients) to ensure you get the right SHAPE in your keto dutch baby for your bigger pan.
Actually making a keto dutch baby is so dang easy that a 10 year old could do it (ahem- me at 10 years old ????), because it's really only 3 simple steps. First step, you heat your aforementioned pan in the oven with butter in it BEFORE you put the batter in. 2nd step is to mix the batter in a BLENDER with just a few clicks of buttons. Lastly, you pour your batter into the sizzling hot pan coated with your melted butter (careful to pour up close and directly in the center of the pan only) and slide the pan back into the oven to cook for 11-13 minutes….and BAM!…. just like that, your keto dutch baby is born.
Stay tuned for my next variation of this dutch baby recipe, which will be with apple slices (very thin ones for carb count) baked right into it with a topped with caramel syrup and oddles of sugarfree whip cream. Because. Buttery 'pancake' + baked apples + gooey caramel + whipped cream = MY KIND OF BRUNCH.
Print
Keto Dutch Baby (Keto German Pancake)
---
Author:

Total Time:

13

Yield:

2
Description
A buttery, oven baked, exceptionally low carb breakfast 'pancake' thats as easy as 1,2,3 to make with no mess to clean up after (just a blender and a pan)! Topped with powdered 'sugar' and fresh squeezed lemon juice, THIS Keto German Pancake tastes just like the real thing! Bake time is 11-13 minutes, and the total net carbs per serving (half the entire pan pancake) is ONLY 1.4 grams net carbs!
---
---
Instructions
1.) Preheat Oven to 425° F.   While oven is pre-heating, place non-stick oven-safe rounded frying pan or well seasoned cast Iron skillet (see post for pan options and the BEST PAN SIZE for this recipe) on the middle rack  with the 3 Tablespoons of butter in it.   The butter will melt and the pan will heat while oven is pre-heating. By the time your oven is preheated, your butter should be starting to sizzle  a bit and JUST barely turning a golden color. That IS EXACTLY how you want  it (this adds great flavor!). 
2.) Crack eggs into a blender or nutri-bullet, and blend for 15-30 seconds.
3.) Add Heavy Cream and water to blender and blend for another 15-30 seconds.
4.) Add Vanilla Extract, Erythritol, Psyllium Husk, Almond Flour, Protein Powder, and Xantham Gum (optional)  all into the blender and blend for a final 15-30 seconds.  If any of your dry ingredients stuck to the sides of the blender, make sure to use a spatula to scrape them down so your batter is smooth
 & consistent.
5.) Once your oven is preheated, and your butter is melted and sizzling hot, pull  the oven rack that the skillet is on out JUST far enough to pour the batter directly into the CENTER of the hot pan.  Do this by holding your blender just 2-3 inches away from the pan and just pouring straight down into the dead center of the pan.  DO NOT STIR. You should see the butter around the edges of the batter (like my batter photo in post).  Pouring it into the pan while still half way in the oven helps to not mix the butter into the batter (since it's minimal moving of the pan). Push the rack back into the oven gently with the pan still on it.
6.) Bake for 11-13 minutes, keeping the door closed during the cooking process (NO OPENING TO PEEK!). You will know when your Dutch Baby (German Pancake) is done when it has a few bigger puffy air bubbles in the center of the pan, the edges have grown/curled up the sides of the pan, and the edges are a tiny bit golden brown.
7.) Remove from oven and let cool for a  minute or two before slicing and serving. It will deflate/de-puff a bit, but that's normal! Dust amply with erythritol (powdered) confectioners sugar, and squeeze lemon juice on top. If you add too much lemon, then just redust with a little more powdered 'sugar' to make type of light lemony frosting. If you don't like lemon, this is good with powdered 'sugar' and syrup as well, or fruit & whip cream 🙂 
Store any leftover dutch baby in the refrigerator and just reheat for 15-20 seconds in the microwave before eating. 
Notes
I usually split this in half  so the serving size is half the entire pancake.
NET CARBS = 1.37 grams  PER Serving (Half the entire pan)
*Sugar alcohols  from erythritol are not counted in total net carbs, since they don't affect blood sugar (they're 0 net carbs)! Carb counts vary based on the brands of each item used.  My calculations are for the brands listed/suggested.
Prep Time:

2

Cook Time:

11

Category:

Breakfast

Method:

Baked
Nutrition
Serving Size:

1/2 the recipe (a half a skillet!)

Calories:

394.5

Fat:

36 g

Carbohydrates:

1.4 g (net carbs)

Protein:

15 g