THIS POST MAY CONTAIN AFFILIATE LINKS FOR PRODUCTS THAT I PERSONALLY USE AND RECOMMEND. IF YOU MAKE A PURCHASE THROUGH ONE OF THESE LINKS, I WILL EARN A COMMISSION AT NO EXTRA COST TO YOU.
Think again if you thought cornbread was off the table on a keto or low carb diet, because now you can make THIS keto cornbread that actually TASTES like REAL cornbread (or at least close to it ????). The best keto cornbread uses sweet corn extract to add a hint of flavoring without any added carbs. This recipe is mildly sweet with a great crumb. Go for a traditional southern style by baking it in a cast iron skillet or portion it out and bake it in a muffin tin (directions for both included). Slather on some Keto "Honey" Butter to sweeten it further without any added sugars.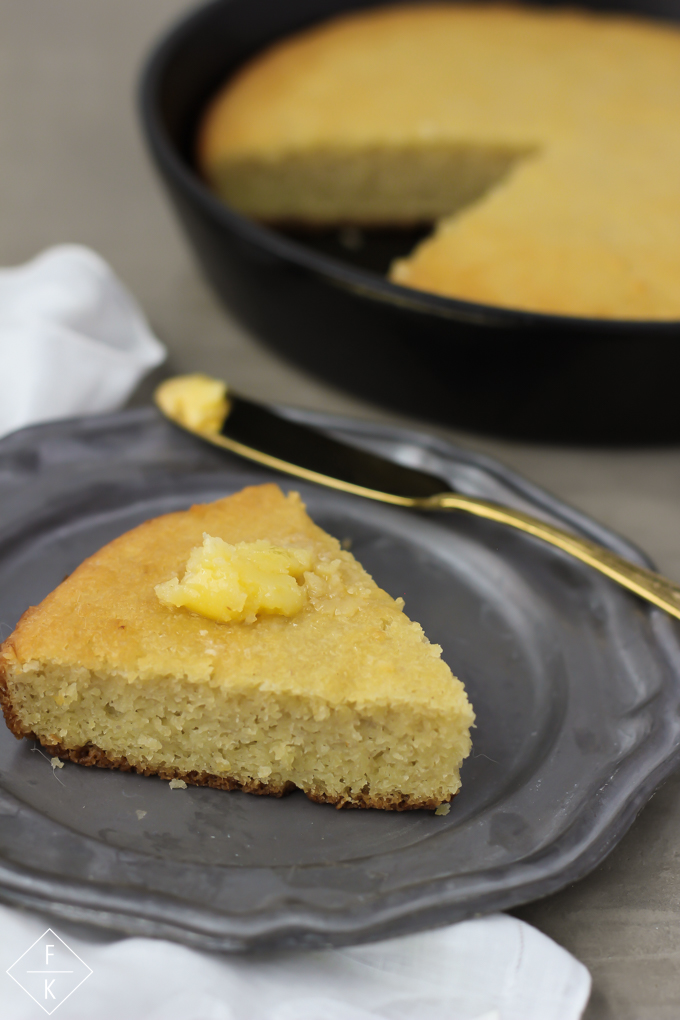 Whenever I make chili, no matter how perfectly delicious it tastes on it's own, I am just not satisfied without cornbread to go with it. Chili without cornbread is frankly a crime. They complement each other BETTER than peanut butter and jelly as far as I'm concerned, and you just simply can't have chili without it.
Since I went Keto and created my Keto Crockpot Chili (which I frequently make batches of), I've had plenty of opportunities to try new keto cornbread recipes to pair with it. Most of my attempts or other recipes that I tried were good when it came to texture, but they just didn't have that cornbread flavor that I was missing. They reminded of a sort of buttery cake.
I finally came up with the genius idea to see if there was actually a corn flavored extract on the market that could transform my keto cornbread from an undersweet, somewhat flavorless dinner cake into the deliciously sweet southern cornbread that I craved, sans any additional carbs. Well – I was right! There IS sweet corn flavored extracts out there it was exactly what my little cornbread caterpillar needed to transform into a beautiful cornbread butterfly.
So where did I find this magical little extract? It was on Amazon! It made it's way to my doorstep in just two days ????. There's a few different brands you can find on Amazon if you search. Can you buy and use any of them in this recipe? Sure! Can I guarantee the results will taste exactly the same as mine? Unfortunately not. The Extract that I use, Amoretti Sweet Corn Extract is very potent, really well flavored, and is actually natural flavoring! The price is close to double the other brands. Butreally it's not hard to justify the cost because it's HIGHLY CONCENTRATED, so it will last you a LONG time. You only need a few drops each time you use it. It's actually not only used in this recipe either. I also use the extract in my KETO CORN TORTILLAS (SO GOOD – RECIPE COMING SOON!!). I have NOT yet tried to use the OOOFlavors Cornbread Extract or the Larissa Veronica Corn Extract, since the reviews aren't as good. Use at your own risk 🙂
The best keto cornbread can be baked a few different ways! You can make it in a cast-iron skillet (as pictured on this recipe), in muffin tins (click here to see it as cornbread muffins from my chili recipe photos), or you can even make it in a brownie pan! It's super easy to change it up, as long as you adjust your bake time and make sure you're greasing your baking apparatus VERY well.
I DO suggest, if you're using a cast-iron skillet to make this, that you take a stab at making it in the traditional style. Traditional Cornbread creation style consists of heating your cast iron skillet on the stove to melt 1-2 tablespoons of butter to use as grease, swirling the melted butter around the pan, then pouring the cornbread batter into the hot buttered skillet and letting it cook for a just a minute on the stove before placing the whole thing in in the oven to finish baking. That's how I made the one in these pictures. 🙂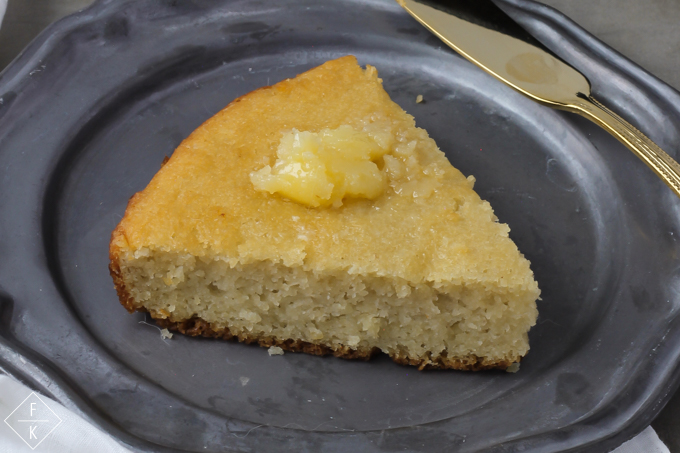 The cornbread muffin version, just baked in a greased muffin tin are my favorite method. Just because they help with portion control, they bake quicker, and they're way easier to grab and go in a hurry. I've even snagged a few of these out of my fridge to eat for breakfast before????‍♀️ . And you know what —breakfast cornbread- is actually pretttty dang good if you ask me ????

A quick tip: don't forget to let your best keto cornbread cool around 15-20 minutes before eating it! It's super moist right when it comes out of the oven, and dries/becomes more crumbly as it cools.
Print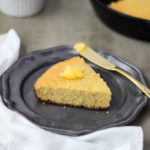 The Best Keto Cornbread, Gluten-Free & Low Carb – Tastes Real!
---
Author:

Total Time:

25

Yield:

1

0

1

x
Description
Enjoy Cornbread again on Keto, with this cornbread that tastes like the real thing! It uses sweet corn extract to add a bit a hint of flavoring without adding carbs. This recipe is mildly sweet with a great crumb. Go for a traditional southern style by baking it in a cast iron skillet or portion it out and bake it in a muffin tin (directions for both included). Slather on some Keto "Honey" Butter to sweeten it further without any added sugars. Net Carbs are 1.5 grams per 1/10th of the Recipe. Muffin Tin yields about 10 muffins.
---
3 Tablespoons Heavy Cream
3 Tablespoons Water
1/2 teaspoon Apple Cider Vinegar
2 Tablespoons Erythritol (granular), or less if you don't like them a little sweet
3 large eggs
5 Tablespoons of butter, softened  (can soften it in the microwave for 15 seconds if needed)
1/4 teaspoon of Baking Powder
1/4 teaspoon Baking Soda
1.5 Cups +1 Tablespoon of Almond Flour (Anthony's Or Kirkland brands are lowest carbs)
6–7 Dribbles/Drops of Amoretti Sweet Corn Extract
Dash of Salt (more based if you used unsalted butter) dash or two of turmeric for a more cornbread like coloring (optional)
Avacado Oil Spray or some extra melted Butter (for greasing pan)
For Keto Honey Butter:
1 Tablespoon Sugar-Free Honey Alternative
3 Tablespoons Butter, Softened
---
Instructions
1.) Preheat you oven to 350°F.
2.) Combine baking soda, baking powder, almond flour  and salt together and mix evenly. Set aside.
3.) Soften the butter in the microwave for 15 seconds, if you don't have butter that's already softened.
4.) In a bowl or a stand mixer, put heavy cream and cider vinegar in together and stir briefly. It should thicken and curdle a bit (like buttermilk!). After allowed to thicken ( 30 seconds – a minute) Then add water and erithryitol and mix together.  Whisk  in the eggs one at a time until evenly incorporated.  Add melted butter and Amoretti Sweet Corn Extract and mix until even.
5.) Grab your bowl of dry ingredients and add it into the mixer in one go.    Mix gently until dry mix is combined with the wet mixture evenly.  You don't want to over mix here.
6.) Grease your baking apparatus very well- muffin tins, a cast iron skillet ( see NOTE 1 if you're using a cast iron skillet), or even a brownie pan.   You can use avacado oil spray or extra melted butter, or you can line your muffin tins with paper inserts.   Pour in all your batter!   If you're making muffins, then you'll want to fill your muffin tins just a little over half way since these do rise when baking.
7.) Bake at 350°F for anywhere between 15 and 25 minutes, until just starting to turn gold brown around the edges (times will vary based on your pan).   For cornbread muffins, bake for 15-20 minutes. For a Cast Iron Skillet or brownie pan,  bake for 20-25 minutes.  In any case, as soon as you see the cornbread getting a little a little golden around the edges, and the centers are done (toothpick test!), then they're DONE!
To Make SugarFree Honey Butter: 
1.) Mix/mash 1 Tablespoon of Sugarfree Honey Alternative with 3 Tablespoons of softened butter with a fork or spoon in a bowl. Mix until fairly smooth.  Cover the bowl  with Saran wrap or gently roll/spoon into saran wrap (in a log shape) if you want a butter stick like shape.  Place your bowl or your honey butter "stick" in the fridge to gently re-harden for 15-20 mins.      Spoon or slice your honey butter onto warm cornbread and ENJOY.
Notes
Note 1: If you're using a Cast Iron Skillet, then you have two options.  You can grease the pan like the other baking directions and simply place into the oven to bake.   This will be around a 25 minute oven bake time, maybe a little more.  OR  If you want to do it the traditional skillet cornbread way,    You can heat your skillet over low-medium heat on the stovetop, while melting 1-2 tablespoons of butter that will end up greasing your skillet first.     Once butter is melted (and pan is hot), pour your cornbread batter on top of the melted butter, turn the heat to medium and  let it cook on stovetop for a minute or two.   Then remove from stove top, and place the entire skillet into the preheated 350 degree oven to bake for 20-25 minutes, or until golden brown at the edges.
Net Carbs =   1.5 grams Per serving (serving size is 1/10th of the recipe)
*Sugar alcohols  from erythritol are not counted in total net carbs, since they don't affect blood sugar (they're 0 net carbs)!
Carb counts vary based on the brands of each item used.  My calculations are for the brands listed/suggested.
Prep Time:

5

Cook Time:

20
Nutrition
Serving Size:

1/10th Of Recipe

Calories:

182.4

Fat:

15.9 g

Carbohydrates:

Net 1.5 g

Protein:

6.1 g
Keywords: cornbread, keto, sides