THIS POST MAY CONTAIN AFFILIATE LINKS FOR PRODUCTS THAT I PERSONALLY USE AND RECOMMEND. IF YOU MAKE A PURCHASE THROUGH ONE OF THESE LINKS, I WILL EARN A COMMISSION AT NO EXTRA COST TO YOU.
Missing Kentucky Fried Chicken while you're on a ketogenic or low carb diet? Miss it no more… as I introduce you to the NEW and improved KFC ???? …that is, KETO FRIED CHICKEN!!! This recipe first has a homemade low carb, keto 'buttermilk' mix that your chicken gets marinated in to keep it extra juicy and make the coating stick perfectly. Then each piece is dipped and doused with KFC copycat seasoning mix (just like the one Colonel Sanders uses, minus the MSG) and my secret keto friendly 'flour' alternative to create that crinkly, wrinkly, extra crunchy, delicious Fried Chicken exterior. It's SO low carb, you can eat a WHOLE bucket of it if you want to 🙂 This KFC Keto Fried Chicken will seriously BLOW YOUR MIND.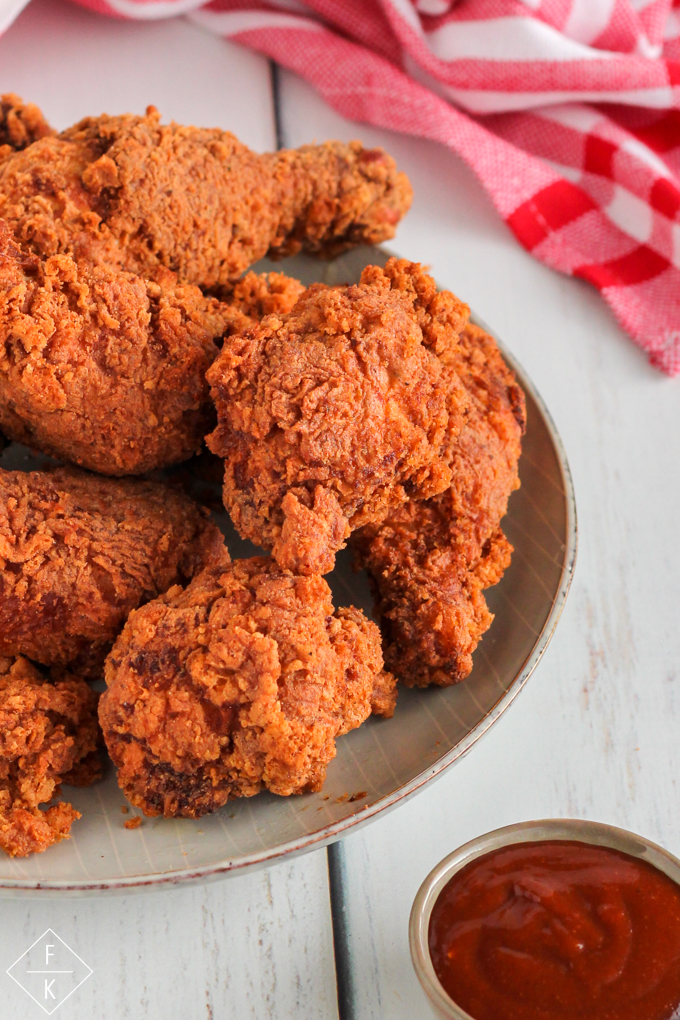 Did you know that there is NO PROTEINS on the menu at Kentucky Fried Chicken that are safe on the Keto Diet?!?! Most fast food places have SOMETHING you can find or modify at a simple request to be keto friendly. Even Popeyes and Chic-Fil-A now have low carb options you can order in a pinch that will keep you in ketosis, like their grilled (not breaded) chicken fingers. BUT…. KFC has literally ZERO protein options for us ketogenic folks. Zero. Zilch. Null. Nada.
Kentucky Fried Chicken is SOOOO good, albeit wildly unhealthy for you, it's big big disappoint that we can't eat there! Just that moment…. when you bite into a big crunchy chicken wang, seasoned to perfection, filled with tender juicy and perfectly cooked meat. AH, it's the best. Maybe even enjoy a side of Mac And Cheese and some coleslaw to go with it…. ?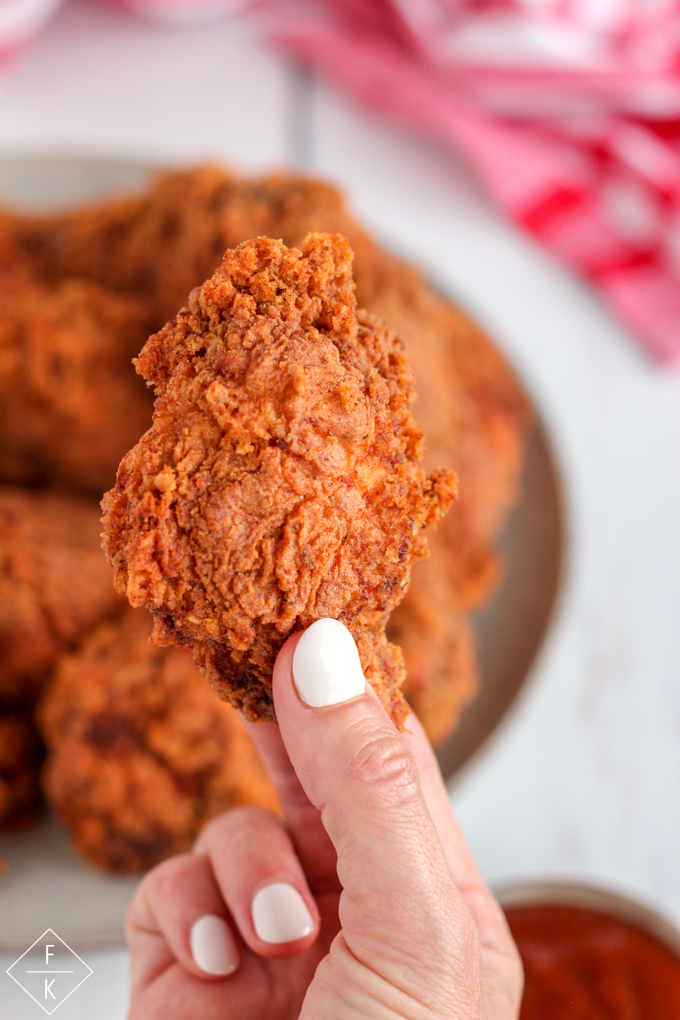 Well the good news is, now you can enjoy Crispy KFC style fried chicken that does NOT include the flour, grains, vegetable oils, or MSG that KFC uses AND is KETO FRIENDLY!!!! Hallejulah- praise the lard. And if you're craving a little side of Mac & Cheese to go with it, I have got you COVERED!!!
Try my Keto Macaroni And Cheese recipe to go on the side of the KFC Keto Fried Chicken for an all around dinner you NEVER thought you could eat while staying low carb, but you CAN!!!
Now, let's talk about this recipe. Because there are some do's, don'ts and tips I learned along the way when experimenting.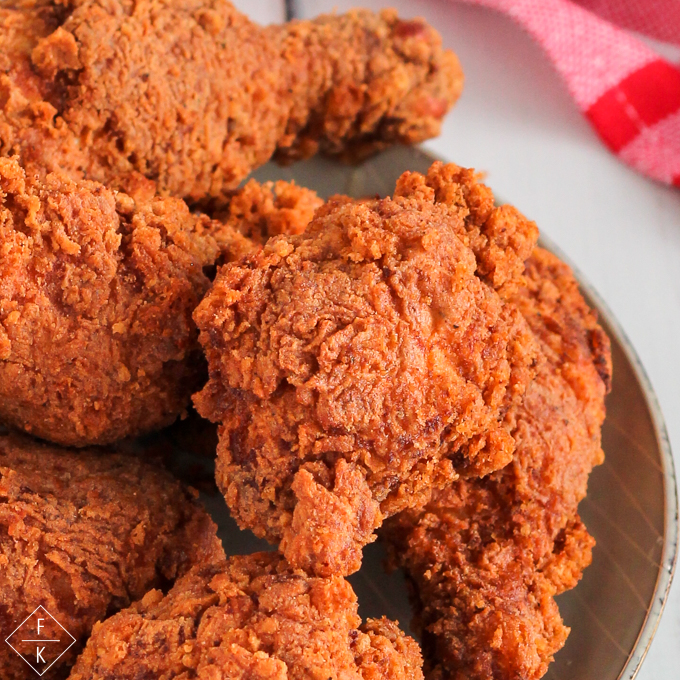 Tips For Making The Perfect KFC Keto Fried Chicken:
1.) Substitutes in this recipe are HIGHLY Discouraged.
Can you substitute almond flour or coconut flour for the protein powder? Yes, you could– but believe me when I say you don't want to. If you do, it won't look ANYTHING like the pictures here and will be grainy, gritty, taste different, and have WAY WAY higher carbs.
Can you substitute something for the Dairy in this recipe? Technically, yes- I have seen others successfully make keto fried chicken with a dairy-free coating of almond milk…and… you can make even buttermilk with almond milk or coconut milk (same ratio as the recipe actually; however, it will NOT quite taste the same.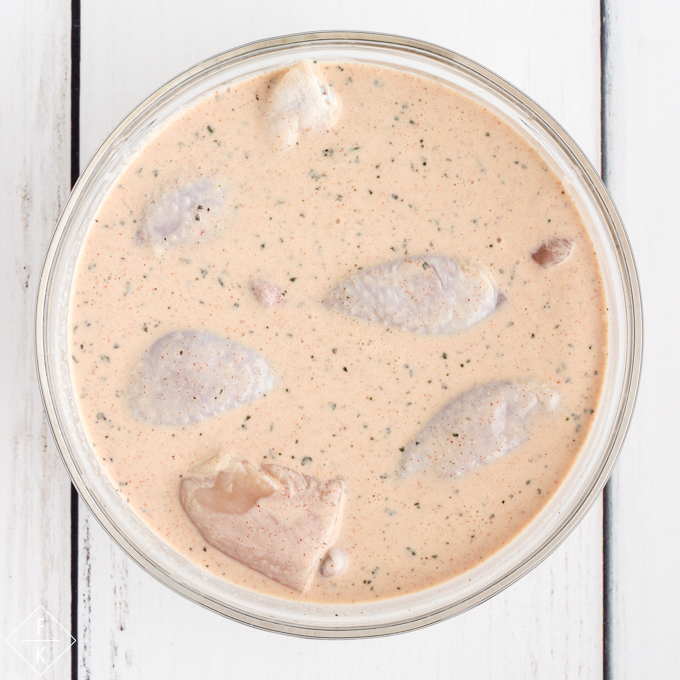 If you are dairy intolerant, then you most likely will have a problem with the whey protein powder too though that this recipe calls for. Can you substitute both whey protein powder AND the dairy low carb milk for a non-dairy alternative? Yes, you can – because you can do whatever it is you want! 🙂 BUTTTTTT…. I cannot gauruntee you will love the taste and texure the same as you would if you follow the recipe.
In conclusion, if alternatives are a MUST because of an allergy, then you can try it! Just know that you are experimenting at your own risk, and I recommend avoiding substitutions if possible. 🙂
2.) Avoid omitting any of the seasonings in the recipe.
This recipe uses a very similar version of the 'Secret KFC seasoning' that was once leaked to the public. 🙂 All the flavors in this mix are super important for the best flavor this keto fried chicken recipe. Because we aren't using regular flour, and are instead using unflavored whey protein powder as our coating, we NEED all the extra flavors that that we can get from this mix. If you are missing one or two items, it won't be the end of the world; however, I recommend you try it with ALLLLLLLLL the things listed in the recipe if you can for the best flavor! You can find all of these at most every grocery store. Celery salt sometimes comes as celery seeds, which is what I used by just grinding it up in my mortar and pestle and adding a little dash of salt to it. Either will work in this recipe!
3.) Make sure you are using the RIGHT temperatures for your frying oil!
Frying with oil is already a bit of tricky business if you don't have a deep fryer at home. You don't need a deep fryer though, and can use a large pot or a dutch oven (I use this dutch oven!). But the tricky part without a fryer, is not knowing the the temperature of your oil. If you get the oil too hot, your chicken will burn on the outside before the inside is cooked all the way through :(. To add to that, I found that protein powder burns much faster and at a lower temperature then regular flour does when frying! In my experimentation making this recipe, anytime the oil was ABOVE 325°F, the exterior coating on the chicken burned and turned way too brown before my chicken was done cooking, which greatly affected the texture and the flavor of this recipe.
So, if you aren't using a deep fryer with an oil temperature setting, then I highly RECOMMEND finding a little Candy/Oil Thermometer that clips into your pan to keep an eye on the temperature of your oil while frying and adjust as needed. That way, you can watch and adjust the heat of your stovetop as the oil temp changes throughout cooking. The oil temperature always drops right as your chicken goes in, because the chicken is colder than the oil.
I start my oil at 325 °F then it drops to 300°F when the kfc keto fried chicken gets dropped in, and then I maintain it at a steady 300-310°F ish the rest of the frying time.
I found myself a candy/oil thermometer at my local grocery store for only $5, and it made ALL the difference! You can also find them on amazon for nearly the same price. Trust me, you don't want to go through the pain of marinating, coating, and frying your chicken and then burn your fried chicken wings because your Avacado oil is too hot. 🙁 I did that the first time I made these, and it was SO disappointing.
4.) Check the Internal Temperature Of Your Chicken To Make Sure It's Cooked Through!
The other challenge with frying foods that are battered or coated, is that you can't see your chicken! The exterior usually looks like your chicken is cooked from the outside in the first few minutes; however, it's impossible to tell whether the very center of your wings is cooked all the way without a quickread meat thermometer. You can use a frying time guide; however, I found when checking the temps of my chickens wings and breasts, that each piece had it's own unique thickness and it was easy to undercook one piece by accident without knowing if it was cooked in the center. The center of each of your chicken pieces SHOULD reach 165°F to be at a safe temperature to eat. 🙂 The good news is, these little thermometers that can make ALL the difference are also super cheap at grocery stores or on Amazon (click here to see).
If you have any questions about this recipe, please comment below the recipe and ask me!!! These are seriously WAYYYYY too good to miss out!
Now, the only thing left to do is is to make a quick call Mr. Colonel Sanders to get this Keto Fried Chicken added to KFC menus everywhere, ASAP ????.
Print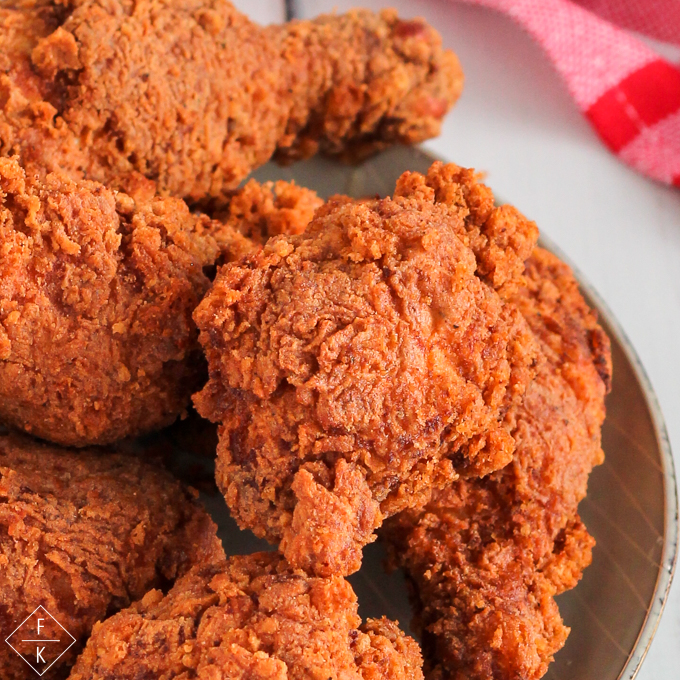 KFC Keto Fried Chicken
---
Author:

Total Time:

4 hours + 20 mins

Yield:

4

–

6

servings

1

x
Description
This KFC Keto Fried Chicken is ultra crispy and loaded with that classic crunchy and crinkly Fried Chicken Crust! First we make a quick homemade low carb buttermilk to soak and coat the chicken, then make the real KFC secret seasoning to flavor our zero carb, unflavored whey protein powder that will coat our chicken with (like a flour), and finally, we DEEP FRY (AT HOME!).    The result is the perfect textured and flavored Keto Fried Chicken JUST LIKE COLONEL SANDERS'! You can use breast pieces, chicken tenders, Chicken Thighs or Drumsticks for this recipe!
---
KFC Seasoning Mix:
1 teaspoon Pink Himalayan Sea Salt
1 Tablespoon White Pepper
1 teaspoon Black Pepper
1 teaspoon Celery Salt (can sub ground celery seeds with a pinch of salt)
1 teaspoon Dry Mustard Powder
2 teaspoons Garlic Salt
1 teaspoon Ground Ginger
1/4 teaspoon Oregano
1 Tablespoon + 1 teaspoon Paprika ( aka 4 teaspoons)
1/2 teaspoon Thyme
Dash or Two of Cayenne Pepper (optional if you want to add a little heat!)
The Buttermilk Marinade: 
2 Cups of  Low Carb Milk (I use Fairlife or Kroger's CarbMaster Brand) ****SEE NOTE 1 FOR Regular BUTTERMILK
3 Tablespoons of Heavy Cream (or Heavy whipping cream)
4 Tablespoons of Distilled White Vinegar (NOT apple cider vinegar)
2 Eggs
1/2 of the KFC Spice Mix (listed above)
Chicken:
2 Lbs of Chicken  Drumsticks, Chicken Breast Tenders, or Chicken Thighs ( I do half drumsticks & half sliced pieces of Chicken Breasts)
2.5 Cups Of Unflavored Whey Protein Powder (I use THIS Isopure Zero Carb Unflavored)
2 Liters of Avacado Oil (Or Frying Oil of Choice)
---
Instructions
1.) Mix the KFC Seasoning mix together in a small bowl and whisk until evenly combined.   Set Aside.
2.) Make the Buttermilk Marinade.   First make low carb Buttermilk by combining the low carb milk, heavy cream, and vinegar together.  Whisk gently, and then let sit for 10 minutes.  The vinegar makes the milk/cream thick as it turns into buttermilk.   Add two eggs to the buttermilk and whisk gently until evenly combined.  Add 1/2 of the KFC seasoning mix into the buttermilk and eggs and whisk til smooth.  Pour this mix over all chicken pieces in a giant Ziploc bag ( you can also put all in a large bowl just make sure all the chicken is covered with the buttermilk mix and then cover with seran wrap) and place in the refrigerator to marinate for at LEAST 4 hours, or overnight. The longer the chicken and buttermilk sit, the better the coating sticks to the chicken, but 4 hours time should be sufficient.
3.) When you're chicken is marinated, you can start heating up your Frying Oil in either a large pan or dutch oven, OR a deep fryer.    You want your oil to be heated to a temperature of around 325°F (not higher!) when you put the chicken in.  For me, it takes about 12 minutes in a large dutch oven over medium heat to reach that temperature.
4.) While Oil is heating, mix the other half of the KFC seasoning mix with  the unflavored whey protein powder and place in a shallow dish (or pie pan or bread pan) and mix well with a fork or a whisk. The better mixed the protein and spice mix is, the more evenly flavored your Keto Fried Chicken will be 🙂    Take a pieces of buttermilk coated chicken and dunk directly in your flour/spice mix.  Use your hands to move extra powder on top and really make sure it's FULLY coated and packed onto the chicken well. Continue to fully coat each piece of chicken, packing on and covering every area of the chicken!!   Only coat as much chicken as will fit in your fryer though, as you want to put the freshly coated chicken into the oil RIGHT after you coat it for it to stick best.
5.) Put coated chicken pieces into your hot oil once the temp has reached 325°F.  The oil temperature will drop to around 300°F once the chicken is in. Your oil temp should be around 300-315°F ish degrees throughout frying to ensure that your chicken cooks through AND the protein powder coating does not overcook (if the oil is too hot it will burn the protein powder!). Cook time will vary based on the size of your chicken.   Large chicken drumsticks should take around 16-18 minutes, Small Breast Strips or Tenders should be 10-12 minutes, Chicken Thighs 18 -20 minutes.    Check the Internal temperature of chicken pieces to make sure they are done THROUGH!!!  Internal chicken temperature should reach 165°F to be safe to consume.
6.) Remove Fried Chicken from the pot when they're done, let cool for a minute or two, and then EAT while they are hot! 🙂
Store any leftover chicken in the fridge in an airtight container, and then just reheat gently in the microwave 30-45 seconds to eat at a later time.  They should still be nice and crunchy even as leftovers.
Notes
NOTE 1: If you want to use regular store bought buttermilk then you CERTAINLY CAN! Just replace the low carb milk, heavy cream, AND Vinegar in the recipe for 2 Cups of Buttermilk.   The buttermilk is only used as a marinade in this recipe so you won't be consuming all the carbs in it anyway! More than half of the marinade doesn't get used when we go to cook the chicken (it's just leftover!), so it is not going to make this recipe that much higher in carbs if you DO WANT to use storebought buttermilk.   Personally, I like to lower my carbs as much as possible when  I can, but that's just me 🙂
*** PLEASE NOTE: Nutrition Information is estimated using ONLY half of the buttermilk marinade. The ingredients list in this recipe has way more carbs listed than what you ACTUALLY End up consuming. More than half of the "Buttermilk" Marinade does NOT get soaked into the chicken!!! 
Net Carbs =    Per serving (serving size)
*Sugar alcohols  from erythritol are not counted in total net carbs, since they don't affect blood sugar (they're 0 net carbs)!
**Carb counts vary based on the brands of each item used.  My calculations are for the brands listed/suggested.
Prep Time:

4 hrs

Cook Time:

20 minutes
Nutrition
Serving Size:

1/3 lb chicken (1/6th of recipe)