This Keto Chicken Marsala is rich, decadent, layered with low carb mushrooms, packed with flavor from garlic and shallots, and SUPER EASY. It's made in only ONE pan in under 25 minutes!!! The sauce is a creamier, slightly thicker, and lower carb variation of the famous marsala wine reduction ( to keep it keto!) and it WILL NOT DISAPPOINT.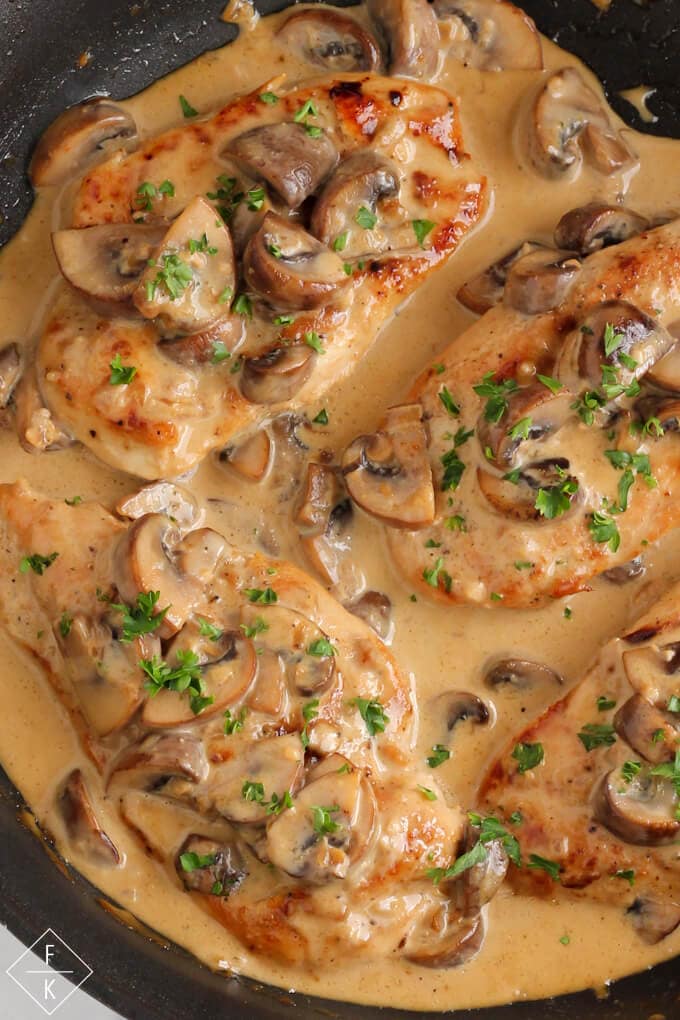 Every time I make this dish, my husband says, " okay, I take back what I said before……. but THIS, is my actual favorite keto dish you make." And then of course he finds something else that he loves… only to later re-profess his love for keto chicken marsala as his #1, every time I remake it.???? So, it's virtually a classic favorite. Even my 2 year old daughter ADORES this dish. I mean, what's not to love? Garlic and shallot flavored marsala wine reduction sauce and perfectly pan – crisped golden brown chicken breasts?
The traditional italian chicken marsala dish, usually requires a really light dusting of flour on the chicken pieces to create a crispy crust. This being a gluten-free and keto friendly dish, I found another solution to crisping up the chicken breasts. By coating your chicken in a layer of salt and seasoning, and then pan frying in ghee, you get a perfectly crisped chicken breast pieces WITHOUT the carbs! You can see the golden browned chicken pieces in my photos peeking through the sauce. That's the crispy crust, and believe or not, the chicken inside is SUPER SUPER tender and juicy still if you follow my cooking instructions!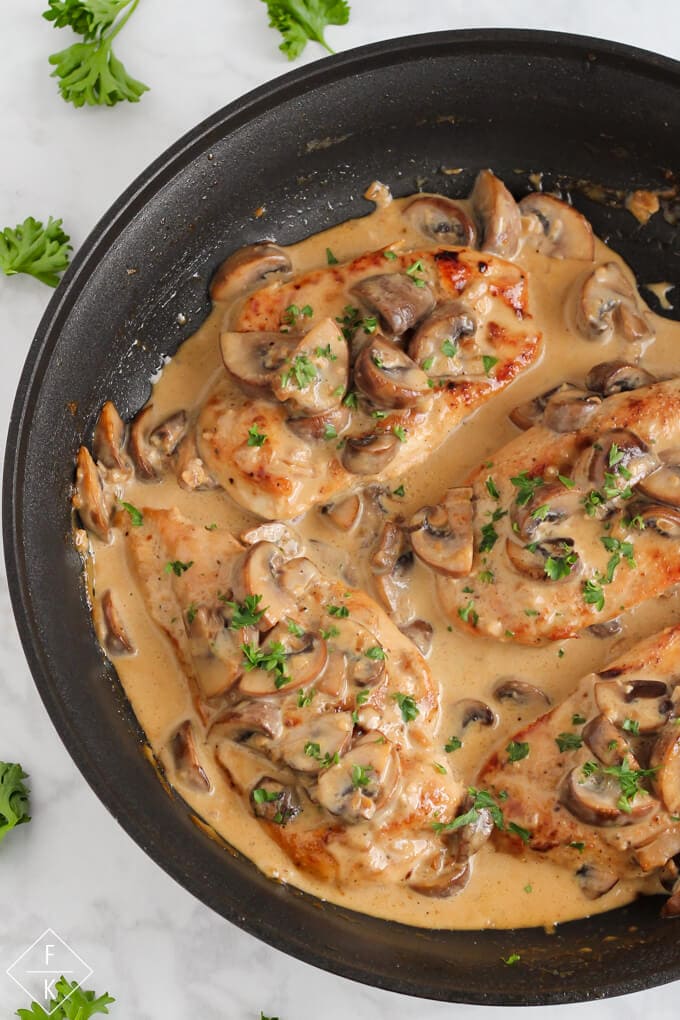 I don't have really any additional tips for this Keto Chicken Marsala recipe, because it's pretty straight forward and simple! Whole ingredients, low carb, and ABSOLUTELY freakin delicious….. Just make sure that you are CUTTING your chicken breasts crosswise to make them thinner (as listed in instructions), otherwise they will take too long to cook and you'll lose the juiciness factor and probably burn the exteriors in the process. 🙂 ENJOY!!!
Keep Calm and KETO ON my friends!
Print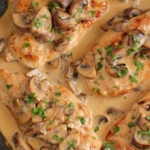 Keto Chicken Marsala – Easy & Gluten-Free
---
Author:

Total Time:

24 minutes

Yield:

4
Description
One of the most decadently flavored dinner meals, without a hassle or multiple dirty pans (one pan!). It's rich, creamy, with a hint of sweetness from the marsala wine, and  layered with low carb mushrooms on top of perfectly seasoned chicken. This chicken dinner can be served up within 25 minutes! You will NOT regret making this one!
---
2 Large Chicken Breasts
1/8th teaspoon Black Pepper 
1/2 teaspoon Pink Himalayan Sea Salt 
1/2 teaspoon Garlic Powder 
1/2 teaspoon Onion Powder 
1.5 – 2 Tablespoons Ghee (You can sub another oil here, but ghee gives the best flavor!)
1.5 Tablespoons Butter
12 Cremini Mushrooms, Quartered or Sliced
2.5 Tablespoon Shallots, Minced
4 Cloves of Garlic, Minced (2 tsps if using pre-minced)
3.5 Tablespoons Marsala Cooking Wine (no substitutes here! You can find it at most all grocery stores too)
3/4 Cup Chicken Broth or Chicken Bone Broth
1/2 Cup Heavy Cream or Heavy Whipping Cream
Extra Salt and Pepper to taste (optional)
Chopped Parsley for Garnish (optional, but does add nice flavor)
---
Instructions
1.) Cut each Chicken Breasts crosswise to make them thinner, creating 4 large but less thick chicken breast pieces.  Sprinkle breast pieces liberally on all sides with each salt, garlic powder, onion powder, and a little pepper. 
2.) Heat up a LARGE (large enough for 4 chicken breast sized pieces) nonstick skillet over medium heat with Ghee in it.  Once the Ghee is melted and the pan is warmed up, place all four pieces of chicken flat in the pan – trying to avoid overcrowding/overlapping them. Cook breast pieces for 6 minutes  on EACH side, without moving them other than to flip or check that they're not burning ;).   Remove chicken from the pan, and set aside. 
3.) Using the same pan, turn down the heat slightly.    Add mushrooms and butter, stirring occasionally for even cooking for about 2 minutes, and making sure to scrape ALL the brown bits left in the pan into the mushrooms (this adds flavor!).  Add minced shallots and minced garlic and cook 1 more minute. Then add Marsala wine and Chicken Broth to the pan, stirring briefly and then allowing to simmer/bubble until the liquid in the pan is reduced by half (meaning half the liquid you started with is left!), which usually is about 6-10 minutes (it should be bubbling/boiling to cook down the liquid). Add Heavy Cream and let simmer and bubble for another 3-5 minutes, or until thickened slightly (it thickens more as it cools though).     Remove from heat, and add  additional salt and pepper to taste if desired (I usually add just two pinches of salt).   
4.)  Place your cooked chicken breast pieces back in the sauce and flip each once to lightly coat in the sauce. Let cool for 2 minutes or so as the sauce thickens up a bit more, and then serve!   You can drizzle extra sauce and mushrooms onto each chicken breast when plating, and garnish with chopped parsley.  AND ENJOY!!!
If you have leftovers, just store the chicken with the sauce and mushrooms drizzled on top in an airtight container.   Place in the microwave at 50% power for 1-2 minutes to reheat (lowered power keeps the chicken from getting dry), and your chicken marsala should be good as new! 🙂
Notes
Net Carbs =    Per serving (serving size)
*Sugar alcohols  from erythritol are not counted in total net carbs, since they don't affect blood sugar (they're 0 net carbs)! 
Carb counts vary based on the brands of each item used.  My calculations are for the brands listed/suggested.
Nutrition
Serving Size:

1/4 of Recipe