THIS POST MAY CONTAIN AFFILIATE LINKS FOR PRODUCTS THAT I PERSONALLY USE AND RECOMMEND. IF YOU MAKE A PURCHASE THROUGH ONE OF THESE LINKS, I WILL EARN A COMMISSION AT NO EXTRA COST TO YOU.
Just because you're eating low carb, does NOT mean you have to miss out on Lasagna night! Now you can enjoy your favorite italian comfort food with my low carb version of … Healthy Keto Lasagna with Zucchini Noodles! It's actually super easy to substitute zucchini noodles for high carb lasagna noodles (especially with my HOW TO guide)! With mounds of stretchy cheese, layers of meat, cheese, tomato sauce, a secret ricotta substitute, and a perfectly crispy, toasted cheese crust on top, this will become your new favorite weeknight dinner. You can meal prep or make this ahead time too, because this keto lasagna actually tastes EVEN better the next day (I swear!)! Make sure to read my whole post for the BEST method/tips to ensure this low carb lasagna doesn't turn into a soupy mess like other zucchini noodle lasagnas do!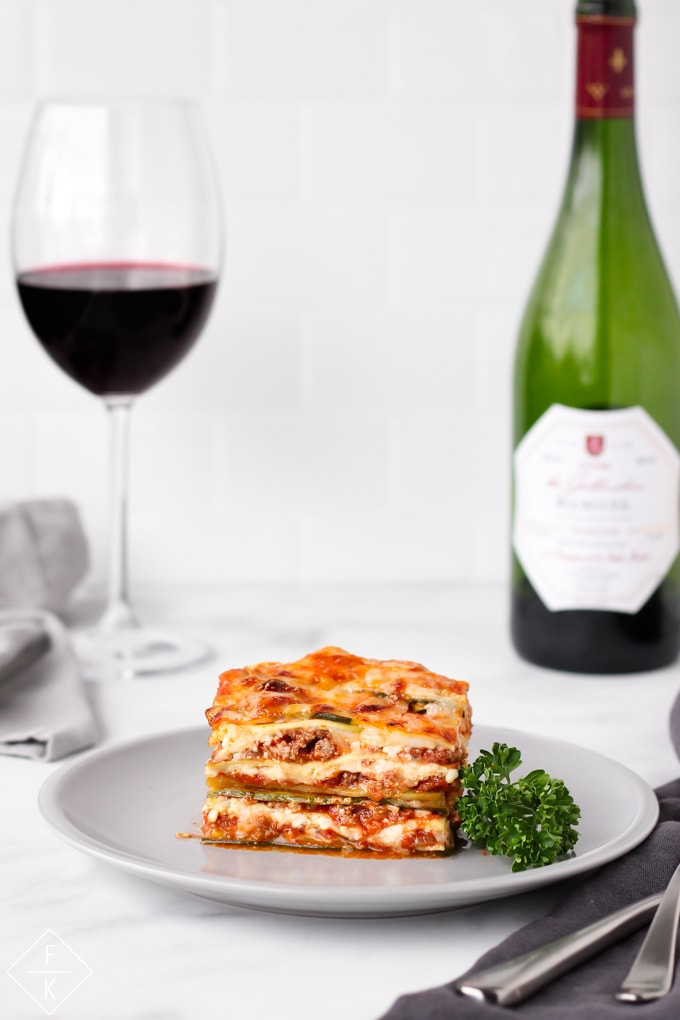 Summertime here in Oregon is the ONLY time of year (we're talking a total of mayyyyybe 3 months here thanks to our 280 days of rain????), that I remove healthy keto lasagna with Zucchini Noodles from my regular weeknight meal rotation. Even though, it's a family favorite meal over here, it's just too dang hot in those few summer months to have my oven blasting… plus it's nice to have a little break from it, just to make us THAT much more excited to reintroduce at dinnertime once fall rolls around. The majority of people that I know, in the US that is, also have lasagna on their family favorites list… and yes, for most people that's the CARBY kind. Regardless, there's some form or lasagna that gets made regularly in most households. This was true for us as well, before going low carb, and with THIS recipe, its' continued AFTER going low carb. 🙂
Believe it or not, this low carb lasagna with zucchini noodles is actually ALMOST the exact same version I have always had on my dinner rotation list, even from BEFORE I WAS KETO. Come to think of it????, I've been substituting zucchini for the lasagna noodles for at least 10 years! True, I was only substituting HALF the high carb lasagna noodles for zucchini noodle one back then (what I thought to be just an easy way to hide veggies), but still ….. Zucchini .Lasagna. PROFESSIONAL over here… The difference with this recipe and my pre-keto version, is that I used to make this with 99% fat free ground turkey (because low fat was ALL the rave back then????‍♀️), and I swapped out my old high carb pasta sauce for a low carb one (RAO's Marinara Sauce). Other than those two things, THIS IS MY TRIED AND TRUE healthy lasagna recipe to the T. ????
I do believe I am a bit of an expert (humble, I know!) when it comes to making a zucchini noodle lasagna that is NOT SLOPPY, SOUPY, OR FILLED WITH LIQUID, seeing as I've been making it for a decade and all????‍♀️ ;). When you replace an aborbant carb filled noodle with a water vegetable like zucchini, it does require some additional care be taken to ensure the your Lasagna ends up looking like Sliceable Lasagna and NOT Lasagna SOUP. There' s lots of tricks I've discovered over the years of making this, and I am going to share ALL OF THOSE tips with YOU 🙂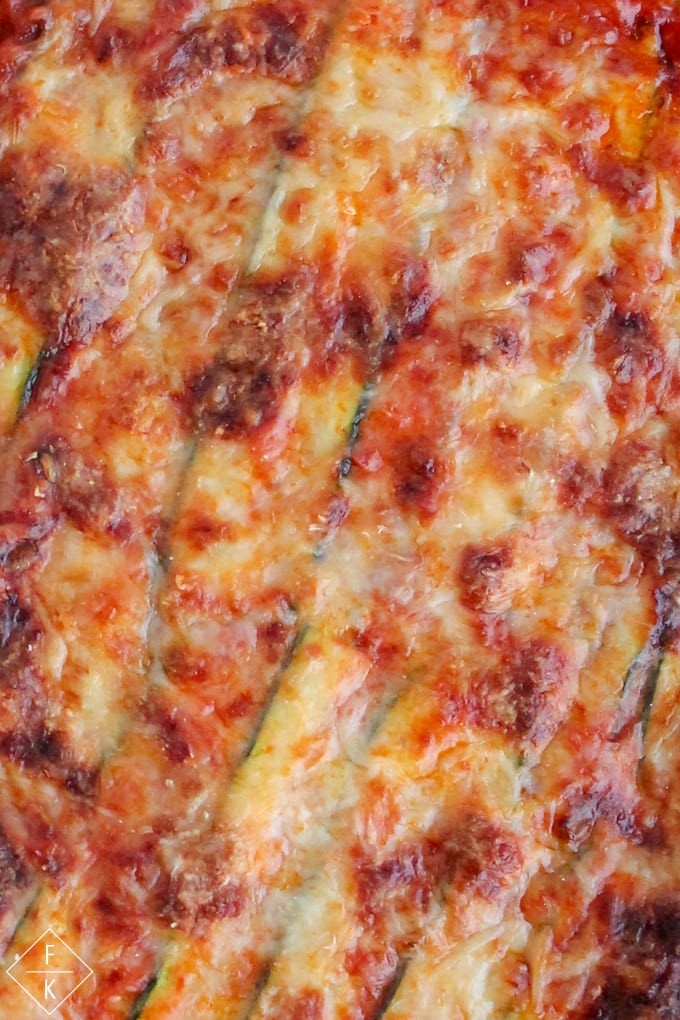 The best practices here are written into my recipe, but here's a quick summary of the tricks I use to ensure this low carb zucchini actually holds together (and can get eaten off your plate with a fork, and NOT out of a bowl with a spoon!).
Tricks To Making This Low Carb Lasagna with Zucchini Noodles NOT Turn Into a Sloppy Soup????:
Extract excess moisture out of your zucchini BEFORE putting it into your lasagna pan, by using SALT! We can do this super easily actually. First, you lay out alll your cut zucchini 'lasagna' noodles (which I like to cut with a mandolin) out on top of a papertowels on your counter. Then you sprinkle tops of the zucchini with salt and let it rest for 10-15 minutes (see Square 1 in above process photos). You will be able to all the see water being pulled out of the zucchini by the salt and forming water droplets on top of each piece (see photo 2 of above process photos). Then, you just have to grab a few extra paper towels and pat each one dry, and gently wipe off all the salt (definitely DON'T leave all the salt on there!). This little trick of drawing the moisture out and then drying, makes a WORLD of difference in the amount of liquid that ends up within your lasagna.
Use Cottage Cheese as a substitute for Ricotta Cheese. This may sound a bit crazy to you — "Cottage Cheese in a LASAGNA RECIPE?!!". Yes, and I PROMISE, YOU CAN'T EVEN TASTE IT! We mix the cottage cheese with 1 egg in this recipe to make it nice and sturdy and give it a more custardy feel like ricotta, and we also add shredded parmesan cheese to the mix to give it more flavor! The cottage cheese not only makes the lasagna hold together better, but it also makes it LOWER IN CARBS!!! Ricotta cheese has around 2 g net carbs per 1/4 cup, and large curd cottage cheese has around 3 g net carbs per 1/2 cup! WIN, WIN ????.
Drain your cooked meat of excess fat & simmer with your marinara sauce for 10 minutes. Most marinaras or pasta sauce have quite a bit of liquid in them (ESPECIALLY LOW CARB ONES), so we simmer it for 10 minutes, to help cook out a little bit of the excess liquid! No, this doesn't change the flavor. In fact, I think it enhances it! I like to cook my ground beef first seperately as well, so I can drain out the excess liquid fat FIRST, then add it to the low carb marinara sauce to all simmer together for 10 minutes before using it as a layer in this lasagna. This will give you the least amount of extra liquid in the lasagna.
LET YOUR LASAGNA COMPLETELY COOL BEFORE CUTTING INTO IT. And Yes, This step is in all SHOUTY CAPITAL letters ???? because it is CRUCIAL to making a zucchini lasagna that doesn't fall apart or resemble soup when it gets onto your plate. As the lasagna cools (at very the least for 1 hour at room temp) the extra liquid from the veggies, sauce, and cheese will absorb back into the lasagna. There's many ways to achieve this if you don't like 'waiting' for it to cool on your counter before digging in (I hate waiting when it looks SO good): You can bake this the night before, refridgerate overnight, and eat it the next day. You can pop the whole pan in your freezer immediately after baking for 30 minutes (to expedite cooling) BEFORE cutting into it. You can make it in the morning, and eat in the evening….OR you can bake it at 5 PM, and it will be ready to eat by 6:30 PM (30 minute bake time, 1 hour cooling on the counter). BUT whatever you do, DO NOT cut into RIGHT AFTER YOU take it out of the oven. The hotter it is, the more liquid in the bottom of the pan when you cut into it and the more it will fall apart. Seriously, don't SKIP this part!! 🙂
I recently posted my keto lasagna with zucchini noodles on Instagram (@fatkitchenblog is my handle, don't forget to connect with me!) and I had SO many messages as to how I managed to make a low carb lasagna with zucchini noodles that held together SO well, with so little liquid! After quite a few messages back and forth sharing what I did with the same tips I listed above, I decided it was time to post my recipe and include ALL my tips and tricks to share with you beautiful people. 🙂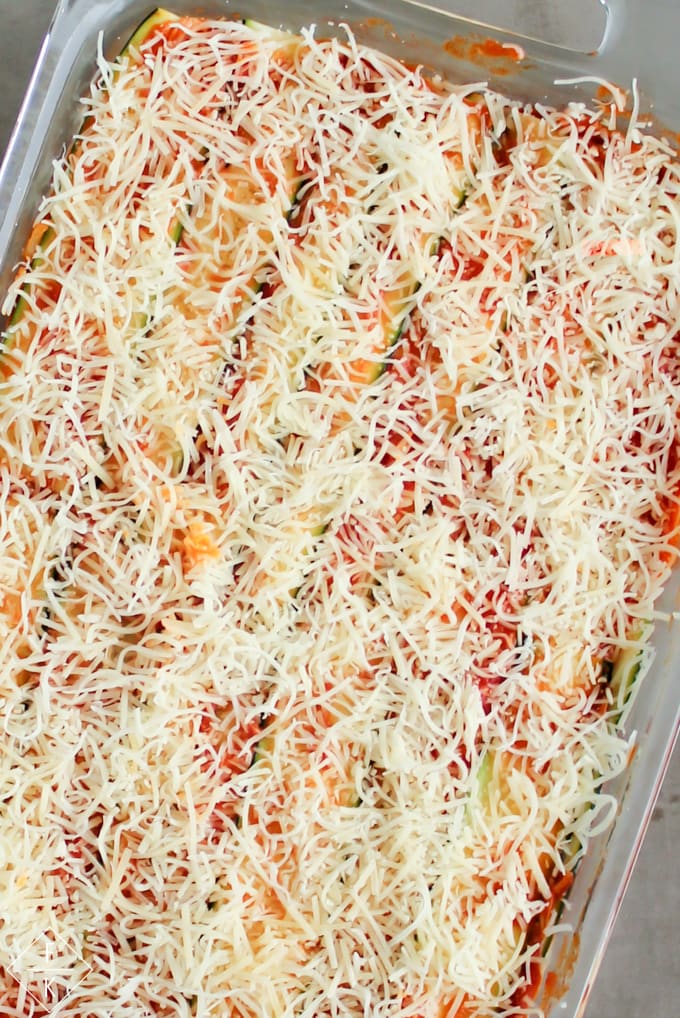 Cutting Your Zucchini Lasagna Noodles:
Now, the only other tip/trick that I need to cover base on is in regards to cutting the zucchini noodles! I like to use this mandolin that I bought on Amazon to cut them all perfectly even and quickly (using the cucumber slicing size); however, before I purchased this, I was cutting them all by hand just with a sharp knife! That works just as well, albeit a little more time consuming (and perhaps a little more dangerous for a clumsy cook, like myself ????‍♀️). So, if you don't have a mandolin and don't want to order one, here's the best way to cut your zucchini noodles with a sharp knife:
First, cut off both ends of the zucchini (as perfectly straight as you can!) on each end. Then, stand the zucchini up on one of it's cut off ends on a cutting board, so it's perpendicular to your counter. Now you have a little flat bottom totem pole, you can slice straight down (carefully) to make zucchini noodles as wide as your zucchini. See photo below.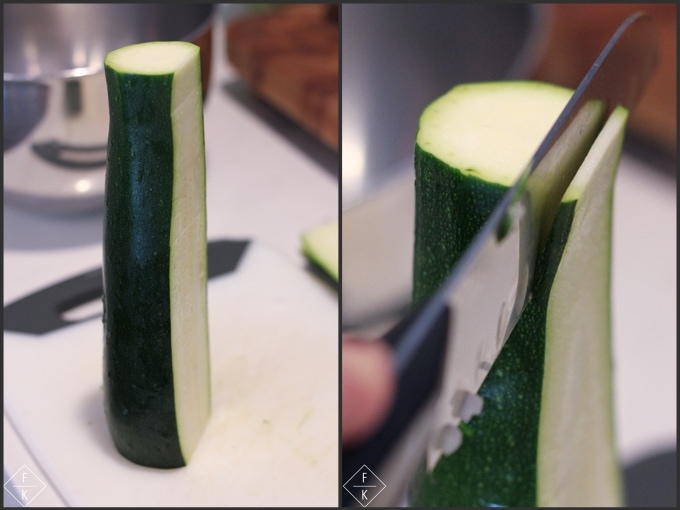 Now, What To Pair Keto Lasagna With Zucchini Noodles With?
WINE, OF COURSE. Red Wine specifically, goes exceptionally well with this!
Can you have wine on a ketogenic diet? YOU bet you can. Wine is generally 3-5 g net carbs per glass, which can easily fit into a daily maximum of 20 g net carbs or less. How do you tell which wines are lower in carbs? That's easy. DRY wines are lower sugars than sweeter wines. A pinot noir for example is a sweeter red wine. A Cabernet Sauvignon for example are generally drier red wines. When picking up a wine at the store, read the descriptions and look for a drier wine.
Another option, is to order dry wines with reduced sugar online! I am BIG BIG BIG fan of DRY FARM WINES. I am not sponsored, just an obsessed customer.
Without further ado, here is the recipe that makes REGULAR appearances on my weeknight meal rotation …. Healthy Keto Lasagna With Zucchini Noodles (as the trumpets sound)!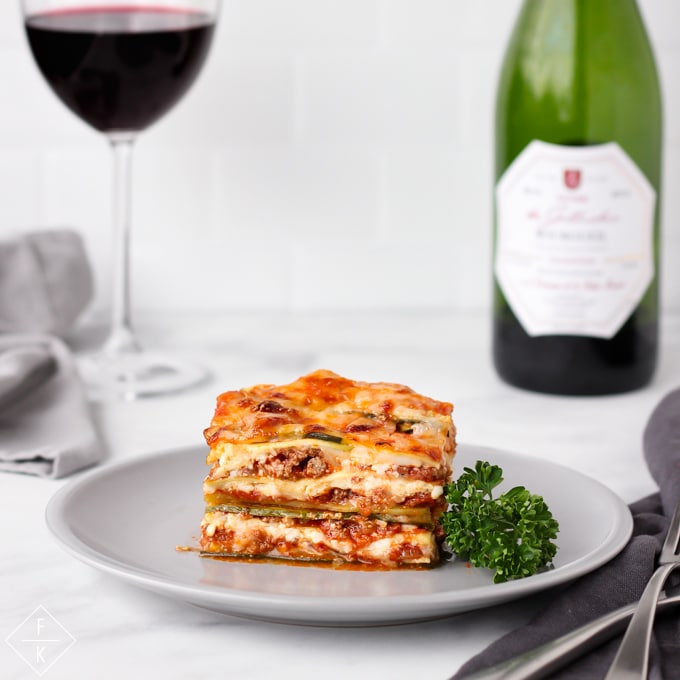 I hope you and your family enjoy this recipe as much as we do (insert picture evidence of hubby eating half the entire pan of lasagna in one sitting every time I make this ???? ).
Print
Healthy Keto Lasagna With Zucchini Noodles
---
Author:

Total Time:

60

Yield:

8

large pieces

1

x
Description
With mounds of stretchy cheese, layers of meat, cheese, low carb tomato sauce, a secret ricotta substitute, and a perfectly crispy, toasted cheese crust on top, this Low Carb Lasagna With Zucchini Noodles will become your new favorite weeknight dinner. You can meal prep or make this ahead time too, because this keto lasagna actually tastes EVEN better the next day (I swear!)! Includes all tips and tricks for ensuring this turns into a real sturdy and standing lasagna you can eat with a plate and a fork (NOT A BOWL AND A SPOON) are included in this recipe and post! BON APPETITE!
---
4 – 6 large Zucchinis (the bigger the better!)
1.5 Tbsp Butter
1/3–1/2 of a large sweet onion, diced
1 LB Ground Beef (can Sub Ground Turkey too!)
2 teaspoons minced Garlic (or 4 cloves, minced)
¼ tsp of Italian seasoning (OR oregano, dried Basil, or dried parsley ALL work great here)
1 container of Cottage Cheese, 16 oz (I like full fat cottage cheese)
1 Large Egg
1/2 Cup pre-grated parmesan cheese
2 Cups of shredded Mozzarella (equivalent of one pre-grated bag!)
1 Jar of  Rao's Marinara Sauce (or sub your favorite!)
Extra Salt and pepper to taste
Optional: Mandolin For Cutting Zucchini Noodles
---
Instructions
Preheat Oven to 375 Degrees F.
Use a Mandolin or large sharp knife (see post on how to use a knife!) to cut fairly thin  wide, long Zucchini noodles.  If using a mandolin that doesn't have a tomato slicer option, use the widest setting to get them thick enough. I use the setting for cucumber slice thickness.   Lay all zucchini noodles out on top of papertowels and sprinkle salt all over the tops (THIS MAKES THEM SWEAT OUT EXTRA LIQUID).   After 15 minutes, wipe all the salt and excess moisture off the Zucchini strips, and be sure to pat each one dry (the drier, the better!).
While zucchini is 'sweating' put onions and butter in a saute pan and cook until they start to look translucent (7-8 minutes)
In a separate  large saute pan cook the Ground beef while onions are cooking. Sprinkle a little salt and pepper on the beef and cook until it's just barely still pink, making sure to break up the chunks well as its cooking. DRAIN the excess fat before continuing.     Add minced garlic & Italian seasoning (or whichever herb you'd like!) to the drained ground beef & cook for 1 more minute.  Add almost the entire container of Rao's Marinara (but reserve 2-3 Tbsps for top of the lasagna) and the cooked onions to the pan of ground beef/garlic.    Turn heat down to medium low, and allow meat sauce to simmer for 5-10 minutes.

While sauce is simmering mix with a whisk, in a mixing bowl, the whole container of cottage cheese, the egg, and ½ cup of parmesan cheese. Set Aside.

Line the bottom of your Lasagna Pan with Zucchini noodles, leaving no gaps between zucchini pieces and overlapping each one slightly (I used a 9 X 13 pan. If you use a smaller pan, then do less of each layer if you want an additional height on your lasagna like my photos!) Add a layer of shredded mozzarella cheese (enough to lightly cover the zucchini). Add ½ the meat sauce (less if using smaller pan and you want an additional layer, then use 1/3rd) and spread evenly with a large spoon.    Add a layer of ½ of the cottage cheese/egg mixture ( again less, more like 1/3 if using a smaller pan than mine) and gently spread evenly.Add another layer of Zucchini Noodles, then mozzarella, then meat sauce, then cottage cheese mixture (same as above!).  Add last layer of zucchini noodles to top of the lasagna.    Sprinkle the remaining Rao's marinara all over the top layer of zucchini and spread thinly and evenly with a spoon.    Top it all off with a nice thick layer of shredded mozzarella and some extra parmesan cheese if desired.
Bake lasagna, uncovered, at 375 F for 30 minutes.   Then, turn on the broiler, and toast the top layer of cheese for 1-2 minutes until cheese is bubbling and starting to brown (optional, but makes a nice crunchy cheese crust).
Allow lasagna to cool for AT LEAST 30 minutes up to 4 days (yes you can prep this beforehand!!!)

 

BEFORE Cutting into it.

  

I like to cool mine in the fridge or the freezer for a MINIMUM 30-40 minutes before we cut and serve.

   

IF YOU CUT THIS WHEN IT'S HOT, there will be LOTS OF LIQUID in the bottom of the pan.  If you cut it AFTER it's cooled, then the liquid gets reabsorbed into the lasagna and it won't be a soupy (although still tasty) mess. Store leftover lasagna, uncut, IN THE lasagna pan in the fridge.

   

It will have NO watery liquid the next day and I swear it tastes twice as good after being refrigerated ????. Reheat lasagna slices

 

in the microwave for 30-45 seconds & EAT!

 

 
Notes
**** See Post Above Recipe for Tips, Tricks, and How To Guide With Photos!   Follow the tips to ensure you do not get a soupy zucchini lasagna!
Carb counts vary based on the brands of each item used.  My calculations are for the brands listed/suggested.
Prep Time:

30

Cook Time:

30
Nutrition
Serving Size:

1/8th of recipe

Calories:

379.4

Fat:

18.63

Carbohydrates:

5.13

Protein:

27.5