THIS POST MAY CONTAIN AFFILIATE LINKS FOR PRODUCTS THAT I PERSONALLY USE AND RECOMMEND. IF YOU MAKE A PURCHASE THROUGH ONE OF THESE LINKS, I WILL EARN A COMMISSION AT NO EXTRA COST TO YOU.
If you're looking for a quick, tangy but sweet, and summery treat, these easy keto lemon bars are my new go-to recipe! The almond flour shortbread crust is made with browned butter to give it a delicious depth of flavor, then it's topped with a sweet but slightly tangy custard-like lemon topping that you can make in a jiffy in your blender! It's finished with a dusting of sugar-free powdered sweetener, and then it's stored in the refrigerator to make them deliciously cold and refreshing! The hardest part of this recipe, is WAITING for the bars to cool 🙂
We've been feeling all the summer vibes over here in Portland, OR this week. It was almost 95 degrees yesterday (in June that RARELY happens). Those beautifully warm sunny rays, have had me craving ALL summertime THINGS I have been loading up on keto summertime fruit favorites at the store- Strawberries, lemons, and raspberries, not knowing what I was making. The first thing that came to my mind was dessert (BECAUSE IT'S ALWAYS DESSERT) , and so I set about making a new keto lemon bar recipe.
There is actually two very different methods to making keto lemon bars – did you know? One is the easy way and one is a bit harder 😉 THIS lemon bar recipe, is the EASY version, with less steps, but just as good of a flavor!
You can either make an actual lemon curd (like a lemon meringue pie) on top of your bars before you bake it , or you can make a thicker and sturdier (more custard like) lemon topping that doesn't require any cooking before going into the oven. The lemon curd method, involves an extra step since you have to gently heat and whisk the lemons and egg yolks, like you would a custard or a curd, on top of hot water on the stove, and then strain the mix before placing on top of your crust before baking. This yields a more gelatinous, thinner, and stickier topping. It's tasty this way, but it's too many steps for me for this recipe, and they don't end up being as sturdy. Since I have a two year old who enjoys all my keto treats with me, I can only hand soooo much gooey & sticky messes, so that option was off the table. Nor did I want them to take any more than 5-10 minutes to prep before baking (because again – 2 year old PROB-LEMS ????‍♀️).
My keto lemon bars are the easiest version around- simple and with little mess. Melt the butter, make the shortbread crust, press it in pan, bake, squeeze the lemons, blend the lemon topping in 30 seconds in a blender, top and rebake. Refridgerate. Boom. Done. Easy Keto Lemon Bars. Okay, so they're not the COMPLETE EASIEST version around, because there is something a littttttle extra that I needed to add in here . it's just takes a few more minutes, but I promise you, it is well worth the extra 3 minutes because it adds some serious flavor.
When testing my first round of this recipe, I melted the butter in the above easy steps and did everything else as usual , and the recipe was good. It was really good actually. My family devoured every last bar that the recipe made (about 10 bars) all in a matter of 24 hours. But, I still felt like the we needed a little something MORE to add to the flavor profile. So, the next day, I made another batch, but this time I didn't just MELT the butter. I BROWNED the butter. All of the sudden, these keto lemon bars went from good to GREAT. So, even though you don't HAVE to brown the butter like the recipe says, I highly recommend you do! It's only the tiniest bit of extra time but I promise this time will be time well spent once you taste the difference!
The Sweeteners In Your Easy Keto Lemon Bars:
I made these Keto Lemon Bars using some Allulose AND some Erythritol (granular) as the sweetener in the reciep. Your lemon bars will result in a different texture if you substitute here. I also used a Powdered sweetener (powdered erythritol) to top these little lemony delights.
Why use Both Sweeteners? Allulose performs phenomonally when it comes to baking anything gooey, soft, saucy , or that needs caramelization (like in my Keto Salted Caramel Sauce!). It dissolves exponentially better in liquid than erythritol, and doesn't form any chunky 'sugary' crystals once the sauce/recipe cools. I LOVE allulose so much, that I would like to use 100% of it in this recipe(and most recipes actually); however, it does have a slightly higher price point than erythritol. I have yet to find a good bulk supplier yet, but you can get it here now in a 2 LB bag on Amazon for $19.99 which is only a little more expensive than erythritol! Anywho, I did half and half to make it a little bit more affordable, and it turns out that the allulose REALLy helps in this recipe.
I tried making this recipe with 100% erythritol, and unfortunately, the lemon topping ending up cracking more when it cooled and having an undesirable grainy texture that most people do NOT like in keto lemon bars. I would highly recommend doing all allulose or at least part allulose for the best texture and least cracking! That being said, substitute at your own risk! 😉
I have also read on other (non-keto) culinary advice forums, that another good way to prevent cracking in your lemon bars, is to use MEYER's LEMONS instead of conventional lemons!! All three grocery stores I went to recently to test this theory, did NOT have ANY Meyer's Lemons 🙁 So I have not tested this recommendation yet. Meyer's lemons are much sweeter and less tart that regular old conventional lemons. That being said, if you want to substitute Meyer's Lemons here, you can! I would reduce the sweetener by 1/3 to a 1/2 if you're using Meyer's lemons though (amount of reduction based on desired sweetness). 🙂
Now that the sun is shining, the pool is open, and the sun doesn't set until 9 PM, you can have a cool refreshing keto summery treat option with THESE EASY KETO LEMON BARS!
Print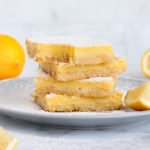 Easy Keto Lemon Bars
---
Author:

Total Time:

43

Yield:

9

–

1

2

1

x
Description
These Easy Keto Lemon Bars are a simple, quick, tangy but sweet, summery treat that's gluten-free, sugar-free, AND low carb. The almond flour shortbread crust is made with browned butter to give it a delicious depth of flavor, then it's topped with a sweet but slightly tangy custard-like lemon topping that you can make in a jiffy in your blender! Then they're finished with a dusting of sugar-free powdered sweetener, and then stored in the refrigerator to make them deliciously cold and refreshing!
---
The Crust:
2 Cups Blanched Almond Flour (I like Anthony's Or Kirkland Brand for the lowest carbs & fine grind )
1/3 Cup Erythritol (Granular) 
1/4 tsp salt
1 egg yolk
1/4 cup of Grassfed Butter  (we will be melting, and browning the butter)
1/2 teaspoon Vanilla Extract
1/4 teaspoon Xantham Gum (optional)
The Lemon Topping: 
6 Eggs
1 Cup + 1 Tablespoon of Allulose or  Sweetener of choice ( See post for choices-  but I recommend either all Allulose OR a combination 3/4 cup of Alluolose + 9 Tablespoons of Erythritol or Monkfruit to prevent bars cracking)
1/2 Cup + 1 Tablespoon of Fresh Squeezed Lemon Juice 
1/2 Tbsp Lemon Zest
1.5 Tablespoons Coconut Flour
1/4 teaspoon Baking Powder (Non- Aluminum is best)
1/4 Teaspoon Xantham Gum (optional)
Topping (Optional): 
1/4 Cup of Erythritol (powdered)
---
Instructions
1.) Preheat your oven to 350°F.  Line a 9X 9 Brownie Pan or rectangular casserole dish (I used a weird 7 x 12.5 Inch Lemon Bar Pan) with parchment paper  or foil covering the sides to make it not stick and easy to remove.
2.) Make the crust. First, brown the butter in a pan by putting butter in a frying pan over medium heat.   Let the butter melt, bubble and simmer for 3-4 minutes, swirling the pan around occasionally to check for tiny golden brown specks in the bottom.   It should be foamy and bubbly on top before the golden browned specks appear on the bottom of the pan, which is why swirling the pan helps to show you what's in the bottom of the pan. Keep a constant eye on it, as once it starts to brown it browns QUICKLY.  Remove from heat once you see any golden brown specks in the bottom. Set aside to cool. 
2.) In a bowl (or a food processor if desired), put in the Almond Flour, Erythritol, Salt, and Lemon zest and whisk until smoothly combined.     Then take your pan with browned butter and add the egg yolk and vanilla extract to it (you can also do this in a seperate bowl if desired) to combine the wet crust ingredients together.      Pour the wet ingredients into the dry ingredients bowl while stirring constantly with a fork until crumbles form and it looks even (if using a food processor just pulse til crumbly dough forms).    Dump your crumbly dough crust into your parchment lined pan & press into the pan with hands until a thick, even, and fairly smooth crust is formed.    Bake in the oven for 13-15 minutes. 
3.) Mix the lemon bar topping, while the crust is pre-baking.    Dump all the lemon bar ingredients into a blender or food processor and blend 30 seconds or so until smooth.   Set aside until the crust is done (bubbles should go away during this time). 
4.) Once your crust has pre-baked.   Remove from the oven and pour the lemon topping onto it.   Put back into the oven to bake for 20-25 minutes, or UNTIL the center is no longer jiggly and firm to the touch.     Turn oven off and crack the oven door open to allow the lemon bars to cool slowly while in the turned off oven for 15-20 minutes (this helps prevent some cracking).       Remove Pan from oven & let cool further on the counter for 30 minutes or more, and then  put entire pan into the refridgerator to cool for at least 4  more hours. 
5.)  After the bars have sufficiently cooled in the refridgerator, then you can cut them into squares and top with a dusting of powdered Erythritol (or powdered sweetener of choice). If you don't have powdered sweetener, you can take regular granular sweetener and put in a Nutri Bullet (make sure it's very dry inside) or a clean coffee grinder to make it into powdered sweetener!  They taste best when cold 🙂
Notes
Net Carbs =    Per serving (serving size)
*Sugar alcohols  from erythritol are not counted in total net carbs, since they don't affect blood sugar (they're 0 net carbs)! 
Carb counts vary based on the brands of each item used.  My calculations are for the brands listed/suggested.
Prep Time:

8

Cook Time:

35