THIS POST MAY CONTAIN AFFILIATE LINKS FOR PRODUCTS THAT I PERSONALLY USE AND RECOMMEND. IF YOU MAKE A PURCHASE THROUGH ONE OF THESE LINKS, I WILL EARN A COMMISSION AT NO EXTRA COST TO YOU.
These Low Carb, Keto Potstickers are amazingly easy to make, ready in 20 minutes or less, and taste delicious! The filling tastes just like real asian style takeout , without all the carbs!! The is made out of well… a little bit of magic I guess you could say. They're made with… something you'd never expect in a dough recipe- CHEESE! Don't let the addition of cheese in this recipe scare you away though, because it's what is responsible for their perfectly crisped, pan fried crust, making them easy to roll and fold, and is definitely the real reason I'm madly addicted to these little dumplings.
Back in my carb-filled days, aka the B.K. Era (Before. Keto.), my husband and I ALWAYS, ALWAYS had a giant Costco sized bag of Ling, Ling Potstickers in our freezer. On nights when I was too lazy to cook an eleborate meal, or when we wanted a delicous snack, or even when we wanted a late night snack- we'd turn to our potstickers. Fire up a pan on the stovetop, douse it with oil, put in a little water, add a lid, and a BOOM. POTSTICKER HEAVEN, in less than 10 minutes. Yes, I still miss those days…. but I finally came up with recipe that actually satisfies our NEED for quick, easy and delicous potstickers in a keto-friendly version!
These Keto Potstickers aren't quite as easy as pulling out a bag of frozen Ling Lings, but they're actually fairly effortless to make. First, we cook the ground pork with a bunch of delicious asian flare items… Then we make the dough IN THE MICROWAVE…. Roll em out, pinch em up, pan fry and finish under the broiler for a minute and they're DONE! Since I tend to LOVE potstickers, love you longg time, I now have a batch of the pork filling pre-cooked and frozen so that I can minimize the times for making these down to about 8 minutes when we're in a pinch (like the good old days!!).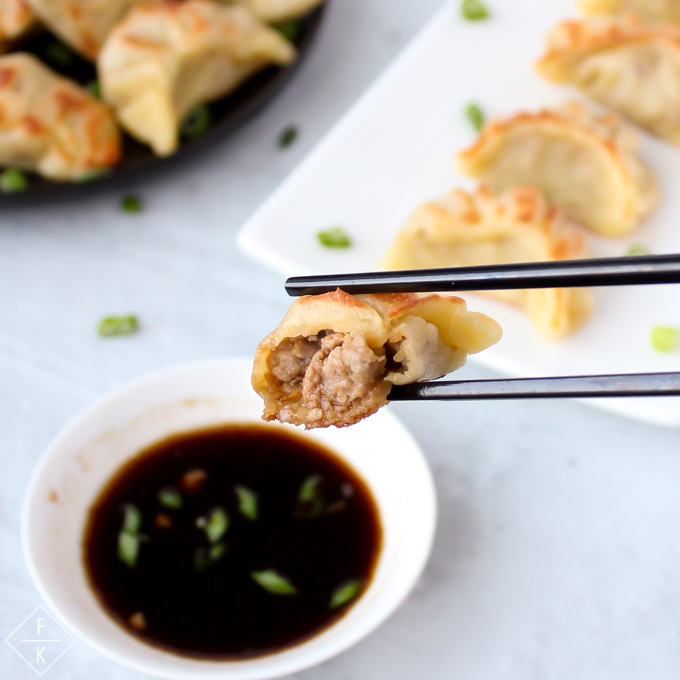 If you've ever made keto fathead pizza dough, then you'll know how easy it is to make! If you haven't made fathead pizza dough yet, then you also need to drop everything and make some, like right NOW, because it tastes even BETTER than regular pizza dough (here's my favorite fathead dough recipe). I'd argue that this dough is actually EVEN EASIER than fathead dough pizza, simply because it's only 3 ingredients to make!
Tips for making the magical dough that folds around these keto potstickers:
Melt shredded Mozzarella in the microwave (in microwave safe bowl) for exactly 45 seconds. Take out, stir, and heat another 15 seconds. Next add in your egg yolk and stir. Then add your almond flour. Mix as below.
When you mix the egg yolk in it will be slightly seperated but easy to swirl in… Then when you add the almond flour into the melted mozzarella and egg, you need to work super QUICKLY AND USE A SPATULA. Please don't try a whisk ????. At first, just swirl the mozzarella around in the dough. It will look crumbly still and not fully mixed. Then use the spatula to 'mash' the almond flour into the dough (use some muscle here to push downward into the dough), then swirl it around again to pick up more almond flour bits, then mash, then swirl again, then mash, etc. until it looks like a legit, cohesive DOUGH.
See the process photo above (with three photos together)? The top of the image (the dough in a clear glass bowl) is exactly what you're dough should look like once it's been properly mashed and stirred. No chunks, no lumps- just smooth dough. 😉
Keep working quickly (you don't want your dough to harden!). Use two pieces of parchment paper (each lightly sprayed with avacado oil) and roll them dough out in between them. Flatten and roll with a rolling pin. You may have to cut your dough into two chunks unless you have big pieces of parchment. If you're parchment paper slips around put a silipat mat underneath or a damp flattened papertowel to keep it from moving around.
Once the dough is thin enough (about 1/8-1/4 inch thick – it should be thick enough to NOT be transparent), then you can cut out your circles! I use an english muffin mold which makes perfect cut out circles (these are the ones I use from Amazon!), but you can use a small bowl or dish too or a mug to cut out the circles.
Remove excess dough and set aside. We will reheat and rework in a seperate batch after, because you don't want your cut dough to cool too much before pinching and shaping it. Fill and shape your cut potstickers. THEN, take the excess dough, reheat in the microwave for 10-15 seconds, and bam it's soft enough to reroll and work on the next batch of keto potstickers.
EASY PEASY!!!
HAVE ANY EXCESS UNUSED DOUGH? If you have extra dough at the end, you can roll out thin and turn it into cheesy flavored, crispy crackers in the MICROWAVE! I put my rolled extra dough, ON the parchment paper, cut it into squares with a pizza cutter or knife, then pop it in the microwave for 1 – 2.5 minutes (until it starts looking golden colored). Then allow to cool for 15 minutes or more, and EAT!! Crunch crunch, gnom gnom. 🙂
The only tricky part of these EASY keto potstickers, is shaping and pinching them together ;), but even that's not hard. I shouldn't really call it tricky either. I'd NEVER done it before i made these, and it ended up being WAY easier than I thought.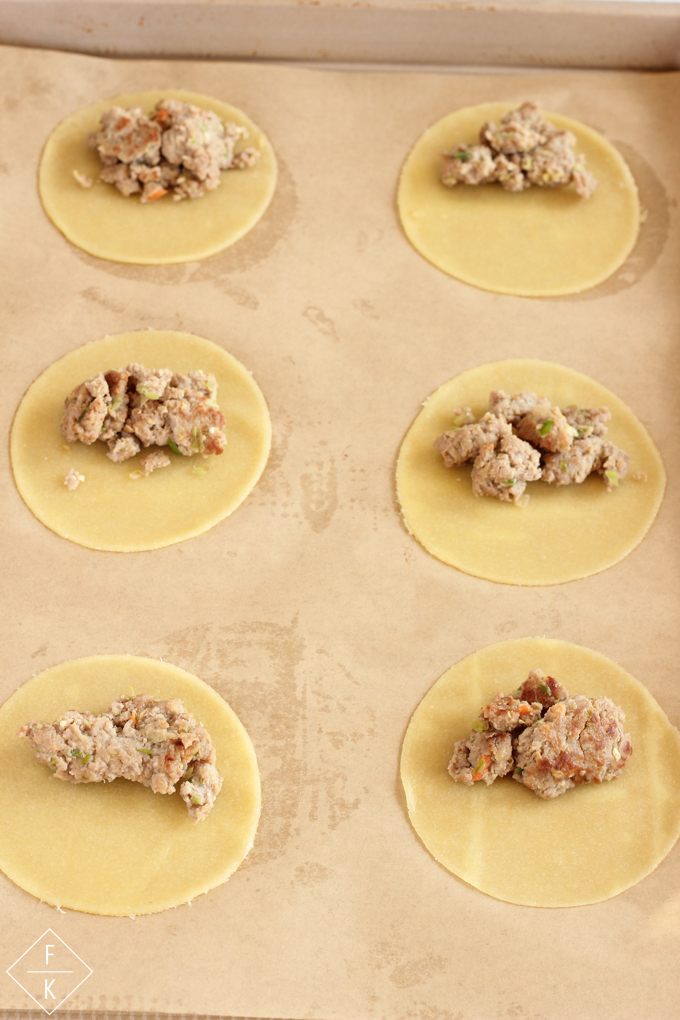 Shaping your Potstickers:
1.) Spoon your cooked pork onto your dough circles (like above photo). Try the pork as flat as possible on one half.
2.) Pick up the unrolled potsticker in your hand like a taco, but using both hands. Push the filling around a bit if needed to make sure it's centered.
3.) Now, you're going to make folds on only ONE side of the potsticker 'taco', leaving the other side flat and you're place to glue it together. Start by pinching one corner shut until it sticks together (I start with the right side since I'm right handed). Then move your fingers farther towards the center ( Left in my case, moving about 1 cm at a time), fold one side inwards and pinch it shut intoto the other flat side. Then, move a little farther towards the center fold the same side in again and pinch to the other side. Continue all along until you get to the other corner. Basically, you're just making pleats all along one side of the potsticker 'taco' and pinching it into the other flat side as you go along.
That's IT! It's not hard! Plus, even if you can't get the shape as pretty as real potstickers, it won't matter because they still taste JUST AS GOOD.
Don't forget to make the potsticker dipping sauce! It's basically required, because it's so good and adds some excellent flavor. 😉
Print
Keto Pork Potstickers ????Low Carb & Gluten-Free!
---
Description
Finally a low carb, keto potsticker recipe that tastes great and is EASY to make!   These keto pork potstickers don't take any longer than 20 minutes to make and taste like asian TAKEOUT, without the carbs!! Save even more time if you make the pork filling ahead of time (you could freeze it too!). That way, making the dough and cooking these little guys will only take you about 8-10 minutes. The dough is made in the microwave, then rolled and cut and shaped to your hearts content. Tjey're pan fried and broiled quickly for the ultimate, all around crispy edges!
---
Pork Filling:
1/2 cup cabbage and carrot mix finally chopped (I use pre-schredded mix bag)
1/2 lb Ground Pork
1/2 teaspoon Salt
1/4 teaspoon White Pepper
1/2 teaspoon fresh ginger, minced
1 scallion, cut into chunks (about 2.5 tablespoons)
1 teaspoon minced garlic ( or 2 cloves minced)
2 teaspoons Coconut Aminos
1 teaspoon Sesame Oil
1 teaspoon coconut Flour
Avacado Oil Spray for pan
Potsticker Dough:
1 Cup of Shredded Mozzarella (pre-shredded  or freshly shredded both work fine)
1 Egg Yolk
1/4 Cup + 1 Tablespoon Finely Ground Almond Flour (Anthony's Or Kirkland Brand are the lowest carbs!)
Potsticker Dipping Sauce:
2.5 teaspsoons Coconut Aminos
1 teaspoon of Bragg's Liquid Aminos (or gluten-free soy sauce)
1/2 teaspoon sesame oil
1/2 teaspoon rice vinegar (or white vinegar)
*add additional flavorings if you like, to taste.Some ideas are white pepper, salt, Scallions, onion powder,  chili oil (for a little spice), or sriracha!   
---
Instructions
1.) Add all the Pork filling ingredients (except the pork and coconut flour) into a food processor.  Pulse to chop the ingredients up.   Add the meat  and the coconut flour and continue to pulse until it looks evenly mixed and has formed a bit of a large meat 'ball' (it should look like meatball mince).   If you don't have a food processor, you can chop all the ingredients by hand and then mash in the coconut flour and meat until fully mixed.    Put your pork mix into a lightly oiled pan, over medium heat and mix/chop up occasionally.   Cook until browned and no longer pink.  Drain the fat and set the cooked filling aside to cool.  
2.) Place your shredded mozzarella into a microwave safe bowl, and microwave for 45 seconds.   Take out and stir.  Place back into the microwave for another 15 seconds, until sufficiently gooey and melted.    
3.) Quickly Take your hot, melted mozzarella and add your egg yolk, stirring vigorously with a spatula. It will look a little stringy and not full combined yet (that's okay).  Working quickly, Add almond flour and stir, in a circular motion with the spatula.   Use the spatula to mash the almond flour down into the rest of the dough, then stir in a circular motion again.. and continue this cycle until you have a non-grainy, smooth dough (see post pics for example!). 
4.)   Transfer your warm dough (WORKING QUICKLY before it cools) onto a lightly oiled piece of parchment paper.   Place another lightly oiled parchment paper on top, and roll your dough out with a rolling pin until it's 1/8th-1/4 inch thick. If your dough looks transparent, it's too thin.   If you're parchment paper is slipping around, put a silpat baking mat underneath or a damp paper towel to prevent movement.    
5.) Cut circles into rolled dough (I used these to cut my circles).  Remove excess dough and set aside (we will rewarm and reroll it after this batch).   Fill each circle with a spoonful of pork filling.   Pick up each potsticker, pinch one corner shut,  then move along and pleats along one side, pinch the dough sides together as you go (see post for all tips and photos).  Set finished potstickers on a baking sheet, while you reheat the rest of dough in the microwave for 10-15 seconds, the knead it gently with hands, and re-roll it out.    Once all your potstickers are complete, refridgerate them for 3-5 minutes or so to help them firm up. 
6.) Heat up a nonstick skillet over medium heat.  Add light oil (I use avacado oil spray and a little dash of sesame oil for flavor).    Place each potsticker with bottom down in the skillet  (skillet needs to be hot) and cook for 30-60 seconds. Don't move the potstickers when cooking the bases or you'll rip the bottom open.     Once the base is lightly crispy and browned, place all the potstickers on a baking sheet bottom down.  
7.) Put your partially browned potstickers in the oven, under the broiler for 1 minute, or until the tops get lightly browned (watch them carefully).  Don't leave them in too long or they will lose their shape! 
8.) Make potsticker sauce, by adding all ingredients and mixing with a fork or a whisk.      
9.) Enjoy Potstickers while they're hot!   🙂     If you end up saving some for later, then just store them in the fridge, and reheat for 30 seconds in the microwave before enjoying!