Missing Asian Takeout on your low carb diet??? This Keto Chicken Lo Mein will give you ALL the flavors of asian takeout without all the carbs, thanks to an authentic tasting, very low sugar, homemade asian lo mein cooking sauce!! It uses a revolutionary low carb noodle, that is actually made out of sea kelp. Don't let that scare you away though, after being cooked in the all juicy, flavorful sauce, they're almost completely UNDETECTABLE as anything other than a regular noodle! Even my 3 Year Old DEVOURS this "noodle" dish with NO questions asked, all while eating a double serving of healthy vegetables!
I originally was introduced to these special low carb, kelp noodles by my sister in law! She's been eating low carb as well for quite some time now, and had come across the noodles at the health food store (new seasons it's called, which is very much like Whole Foods) that my brother works at. She sent me a picture of her sea kelp noodle stir fry that my brother had made her and said that they were really good and really low carb (2 g net carbs per serving for the noodles, and ONLY 6 CALORIES!!!). So, I of course, immediately went and sought out the noodles for myself afterwards. By 'Sought Out', I mean… I immediately hopped on my phone to my amazon account clicked a button, and VOILA- they were en Route to my DOORSTEP within 2 minutes of me seeing her text.???? … Convenience is the name of my game over here and I only have to pay $1 more something to show up TO MY DOORSTEP, then I will HAPPILY pay the extra dollar. ????‍♀️
Even though these low carb sea kelp noodles were personally recommended by family, I was still quite skeptical about how they were going to end up. "Are these going to taste like seaweed?!?!?" I wondered….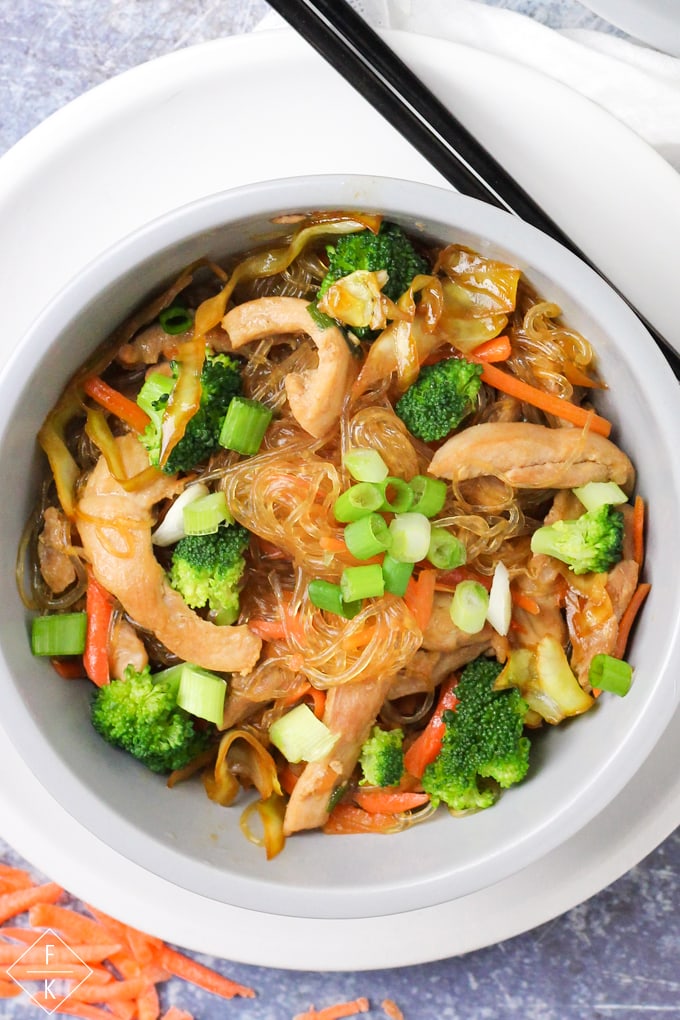 I had seen a recipe by www.Recipetineats.com for an easy but authentic tasting lo mein dish, that I had drooled over and basically tried to lick my screen ages ago. I thought this was a PERFECT opportunity to try a ketofied version of her recipe. I was thinking the risk of a funky flavored noodle would be low with all the tasty sauce I'd be cooking them in.
After I made my recipe adjustments to make the chicken lo mein LOW CARB, I was actually in AWE at how good it was!! The sea kelp noodles were almost undetectable as anything other than some kind of rice noodle or something! They soaked up all the sauces, softened up during cooking just like a noodle, and were NOT 'squeeky' like shirataki noodles can be
(YUCK, I can NOT stand the texture of shirataki noodles). HALLEJULAH!!!
I have made this recipe upwards of a dozen times since that first attempt, because we're all addicted! Even my 3 year old daughter GOBBLES this up, spinning the kelp noodles on to her fork (LIKE A LADY), and says " more noodles please"! Those two little words, "more please" always mean a repeat meal and one that's LIKELY to go into the rotation. She is quite a 'spirited' child (MOst likely will be a a Future CEO or President one day) and a SERIOUSLY picky eater. Not to mention, my husband (aka. MR.-I-WILL LOVE-AND-EAT-ALL-THE-CARBS-UNTIL-THE-DAY-I-DIE) loves this keto chicken lo mein with kelp noodles whole heartedly!
It's super easy to make, by for how authentic it tastes as a lo mein, and definitely a MUST try! Make sure you use chicken THIGHS instead of chicken breasts, if you want to make sure the chicken stays tender & juicy! Feel free to add in any extra veggies or alternate the ones I've added. If you DO add extra cabbage or broccoli or anything that gets watery when cooked, you might want to cook them in a seperate pan and then toss them in during the last few minutes (Just to make sure you're not watering down the DELISH stir fry sauce)!
Looking for Another DELICIOUS LOW CARB RECIPE?
Looking for Another DELICIOUS LOW CARB RECIPE? Try my KETO PORK POTSTICKERS (these are LEGIT):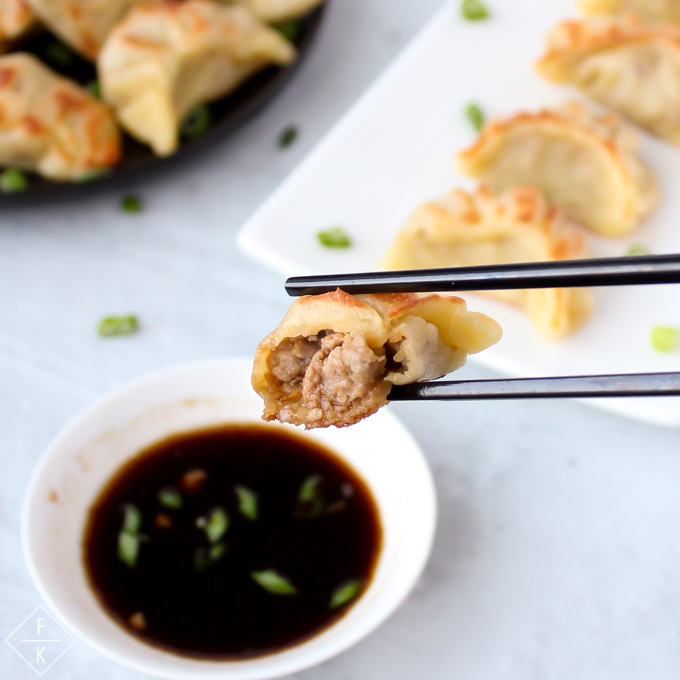 Print
Keto Chicken Lo Mein With Kelp Noodles
---
Author:

Total Time:

15

Yield:

2

-3

1

x
Description
The key to this Keto Chicken Lo Mein  tasting like real asian lo mein takeout is ALL in the sauce! The noodles are very low calorie (6 calories a SERVING!), very low carb and are made with … SEA KELP! Don't let that scare you away though, they are ULTRA delicious and undetectable as as anything other than a "NOODLE" by even my 3 year old!  A MUST TRY!
---
The Cooking Sauce:
1 Tablespoon

+

1 teaspoon

Soy Sauce

1.5 teaspoons

coconut aminos (can sub soy sauce +

1/2 tsp

more sweetener)

2 teaspoons

Oyster Sauce (NO SUBS! can find in regular grocery stores!)

1/2 Tablespoon

Mirin

or

Asian Cooking Wine ("Shaoxing Wine") * See note 1 (can sub cooking sherry +

1/2 tsp

sweetener)

1/2 Tablespoon

Sesame Oil

1 teaspoon

Erythritol or Monkfruit (can sub 1.5 tsps allulose)
large pinch of white pepper

1/8

th teaspoon xantham gum
Lo Mein Ingredients:
1

lb. Chicken Thighs, cut into cubes or  small little strips

1 Tablespoon

Avocado Oil

1.5 teaspoons

garlic, chopped (about

3

cloves)

1/4 Cup

carrots, julienned or "shredded"

2

Green Onions cut into pieces & DIVIDED.

1/2 cup

of green cabbage, very thinly sliced (or other veggie of choice)

1

Package of Kelp Noodles

1/2 cup

Broccoli with stalks cut very short to make small broccoli pieces, (recommended to be steamed seperately and added to lo mein after cooking)  totally optional
---
Instructions
1.) Mix all Sauce ingredients, except the xantham gum.   Whisk well.   Sprinkle the xantham gum in while whisking.  Set aside.
2.)   Take Kelp Noodles out of package and rinse thoroughly in HOT water in a colander for 30-60 seconds. Use your hands to break apart the noodles and loosen them (don't worry they soften up when you cook them!).  Set drained colander aside.
3.) Add Avocado Oil to skillet with chopped garlic and turn on heat to Medium/High .   Cook for 30 seconds while the pan heats up. Add Cubed chicken thighs. Cook, stirring  as you go for even browning for 1-2 Minutes.  Once the chicken has started browning on all sides (it's okay if it's still slightly pink), then add all your veggies ( except broccoli you can steam seperately if you want, it cooks more evenly that way????‍♀️) and  use a  little more than  half of the green onions (save the rest for topping!).  Cook for 1-2 minute over medium/high heat.   Add the Kelp Noodles & all of your cooking sauce. Continue to cook while mixing around the noodles with Tongs until the noodles are sufficiently softened and the sauce has thickened  & soaked into the noodles ( I usually let mine cook  for 3-5 minutes at the end because we like the kelp noodles to be on the softer side).
4.) Serve immediately, garnished with the remaining green onions.  Add Sriracha if you want a little extra spicy kick! 🙂  Store Leftovers in the fridge and reheat in the microwave for 30-60 seconds (it tastes exactly the same reheated!).
Notes
Note 1: Mirin Cooking Wine OR Asian cooking wine "shaoxing wine"  is an ASIAN STAPLE in  traditional lo mein, and is what really gives this dish authentic taste!   You can find it at most grocery stores, all asian grocery stores, and online here.    If you can't find it though, you can substitute regular cooking sherry plus 1/2 tsp sweetener (such as erythritol or monkfruit).
Note 2: I Highly recommend cooking your cabbage, or other veggie substitute (if they hold a lot of moisture like caggage does!) in a seperate pan and then adding to your lo mein at the end.    You CAN  cook them directly in the pan during the same step you add the carrots (I have done this before!!), it just seems to add a little bit of extra moisture to the sauce, so it doesn't get as THICK as it would if you cook it in another pan. If you don't mind the sauce a little bit watered down, and don't want to dirty a second pan, then by all means GO FOR IT! 🙂    If you want to use a second pan, I typically just add 1 tsp of oil, a splash of soy sauce, a tiny splash of oyster sauce, and a 1 TBSP of water or so over medium heat, and let it cook down for 5-7 minutes, until it starts to caramelize and soften.  YUM! 
Net Carbs =  5.33 g net carbs Per serving (serving size is half the recipe)
*Sugar alcohols  from erythritol are not counted in total net carbs, since they don't affect blood sugar (they're 0 net carbs)! 
Carb counts vary based on the brands of each item used.  My calculations are for the brands listed/suggested.
Prep Time:

5

Cook Time:

10
Nutrition
Serving Size:

2 LARGE Servings (could make 3)

Calories:

352

Fat:

16.8 g

Carbohydrates:

5.33 g net carbs

Protein:

38.22 g